Reasons To Invest
Breakthrough Nutrition Innovation at Speed & Scale: By growing on land and regenerating carbon and nitrogen from local agriculture, we cultivate seaweed​ with complete protein, nutrient-dense, and fibre-rich species at a 50x faster rate.

De-risked & Scalable: Fully functioning operational facility and technology platform are located in the Shoalhaven on the South Coast of NSW - we have built a vertical chain and have full control over the integrity of our seaweed ingredients from sea to spoon.

Volume-ready: Sold 62,000+ food, supplements and skincare products featuring our unique ingredient.

Our customers love us! 60% annual returning customer rate.

Retail-ready: Stocked in national retailers like Harris Farm Markets and export sales rolling out our products with Holland Barrett in the UK and Chefs Garden in Hong Kong.

Sustainable 'Aquaculture': Can cultivate our unique Australian seaweed, the Green Ulva, in our land-based technology, while eliminating any risk to the environment with our zero-waste solution.

Award Winning: Gold, Silver and Bronze medals at the Australian Food Awards.

Rich R&D Roadmap: Embarked on successful research and development programs in sustainability, food product development, health and clinical biotechnology applications.
---
What do I get if I invest in VSS/PhycoHealth
By investing through Equity Crowdfunding, you will own shares in Venus Shell Systems (VSS) and be part of our journey by becoming a shareholder. That means that you have a stake in the long-term success of the business should a liquidity event take place. To find out more about becoming a shareholder and what this means review our Investor Page.
In addition to becoming a shareholder of Venus Shell Systems (VSS), a range of perks and benefits are available as a thank you to the investors.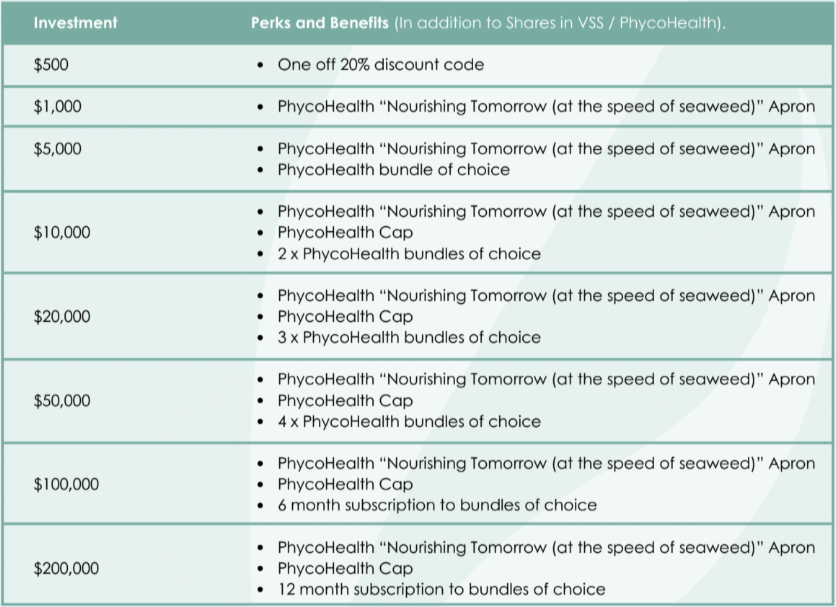 ---
We're scaling our "sea-to-spoon" operations into the mainstream and preparing for global expansion!
For over 20 years we have been developing technology to cultivate one of the most sustainable, fastest growing, and nutrient-dense seaweeds on the planet. Now we are raising funds to scale our cultivation facility, and sales and market operations to bring this solution from our oceans to every body, and every plate.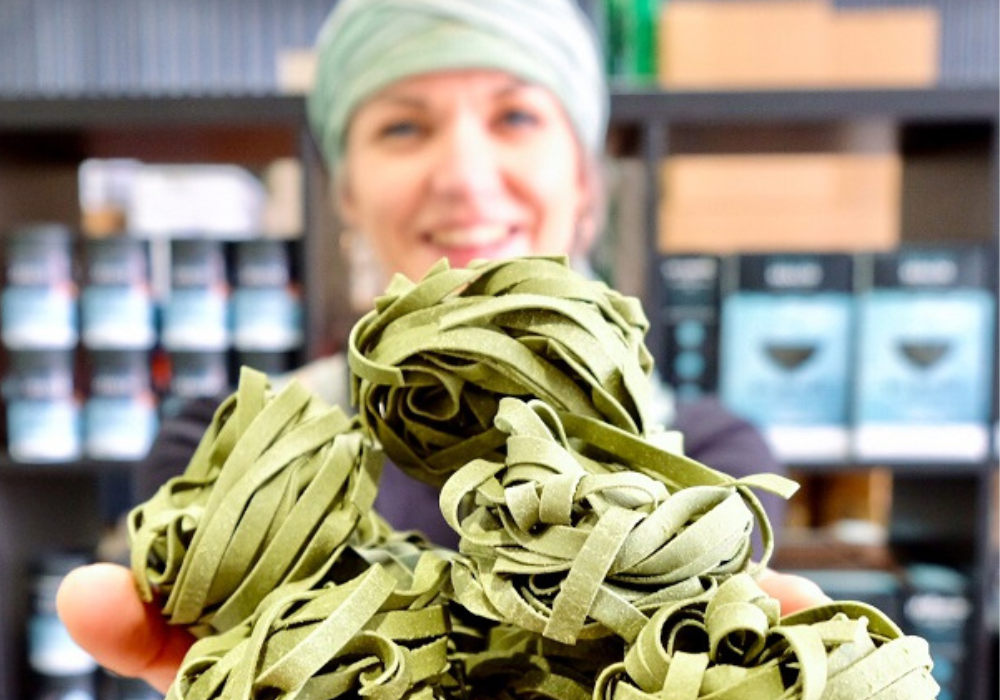 While seaweed has been a long-standing food source in Asia and South America, the Western world is just beginning to discover its remarkable nutritional and sustainable benefits. PhycoHealth cultivates seaweed that specifically targets the nutritional gaps in our food systems, naturally. Our mission is to enhance nutrition and conserve planetary resources through our unique seaweed and zero-waste innovation.
Our technology is de-risked and ready for expansion to become Australia's largest seaweed facility - a key stepping stone to establishing ourselves as an industry leader in this $6B (AUD) global green seaweed market (Source: Seaweed Cultivation Market by Type, Markets and Markets).
---
The Problem
Traditional food production has amongst the highest environmental impact on the planet, due to the use of fossil fuel-dependent fertilisers, and extensive land and water usage.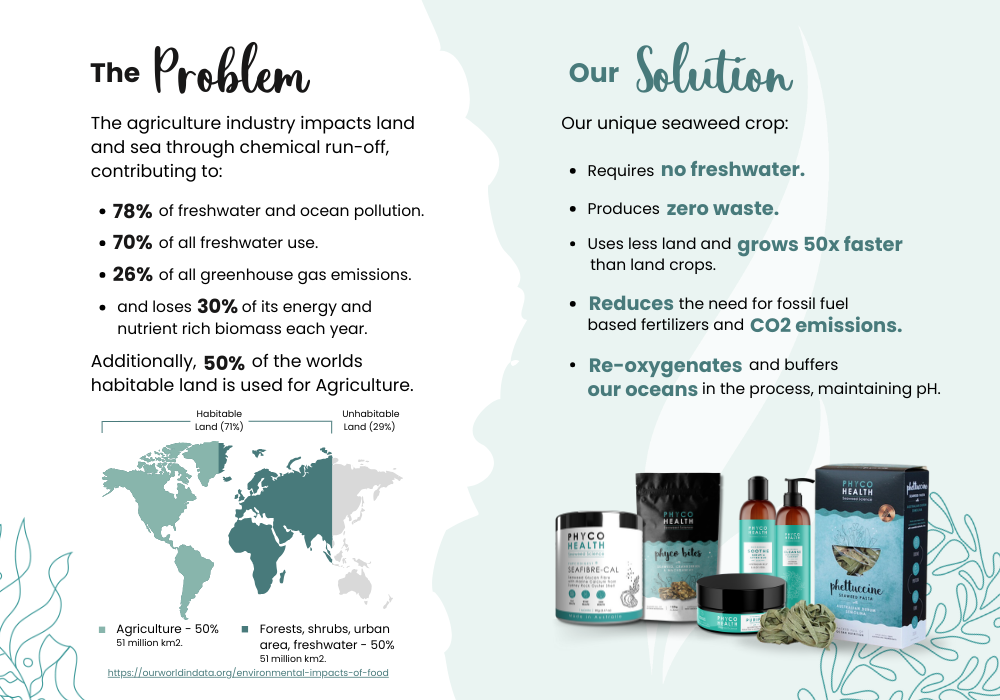 Despite the acknowledged nutritional benefits of seaweed, only a handful of companies have built the technology to cultivate seaweed on land in a very small but highly-productive area. While there are other types of seaweed and offshore cultivation, these are less suitable for staple foods due to their excessive iodine, and lower protein content. Our aquaculture technology reduces the impact on both land and sea and is more efficient than both systems for food production.
---
The Solution
Venus Shell Systems is the technology behind PhycoHealth. "Phyco" is greek for seaweed, and at PhycoHealth we demonstrate that seaweed is the key to a circular economy in many systems from land to sea.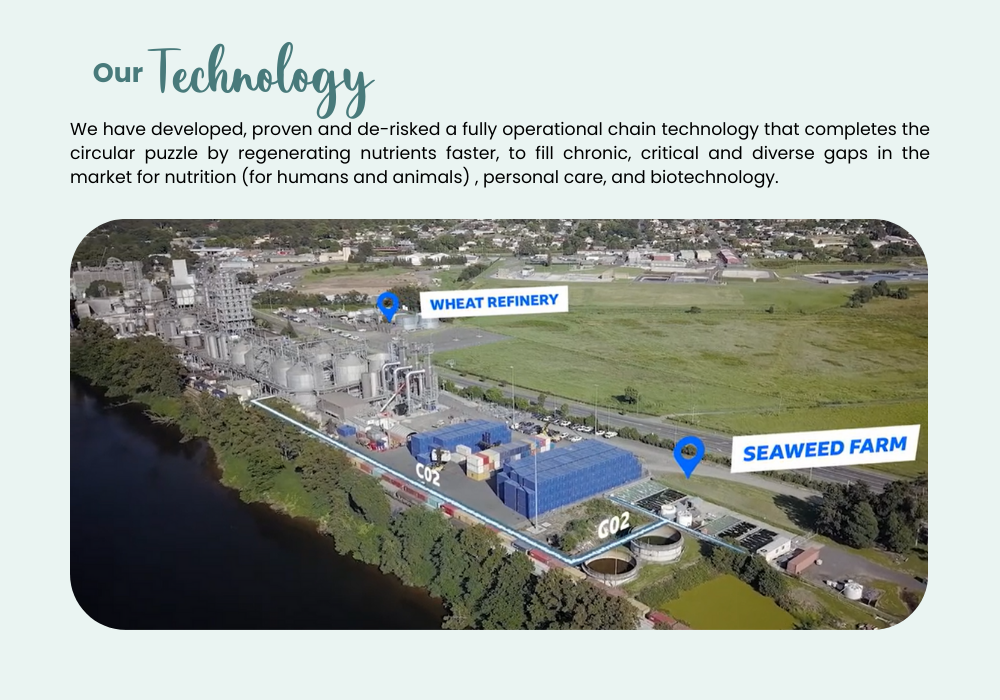 Our Sea to Spoon can be summarised in 3 stages:
Stage 1: We have developed technology to capture natural CO2 and nutrients from the fermentation of crops or food and beverage, and combine this with natural, filtered saltwater, creating pure carbonated seawater at our Bomaderry, NSW facility, an extension of the Manildra Wheat Refinery.
Stage 2: The Seaweed rapidly absorbs the CO2 and transforms it into our green seaweed biomass. The clean, filtered saltwater flows back to the estuary (cleaner than before) and we generate a nutrient-dense biomass from the carbon dioxide by-product, with zero waste.
Stage 3: Seaweed biomass is dried and refined in our Processing Plant in Huskisson NSW and manufactured into a range of products across the FMCG (fast moving consumer goods) sector. These include food products, clinically tested supplements, and skincare products with functional, plant-based ingredients that we use in our wound healing research. They are currently distributed under the PhycoHealth brand through Direct to Consumer (DTC) e-commerce and our retail partners. We are also in discussions with other global brands to share our new biomolecules with the world.
Our land-based cultivation technology enables us to grow:
a unique species of seaweed 50 times faster per hectare, than any land crop.

a completely traceable and consistent food grade crop rich in protein and dense in nutrients from pristine, filtered seawater.
It also captures CO2 and nutrients from the terrestrial food system that would otherwise be lost energy and resources that impact the planet.
We have already sold 62,000+ products to date and are stocked in national retailers like Harris Farm Markets.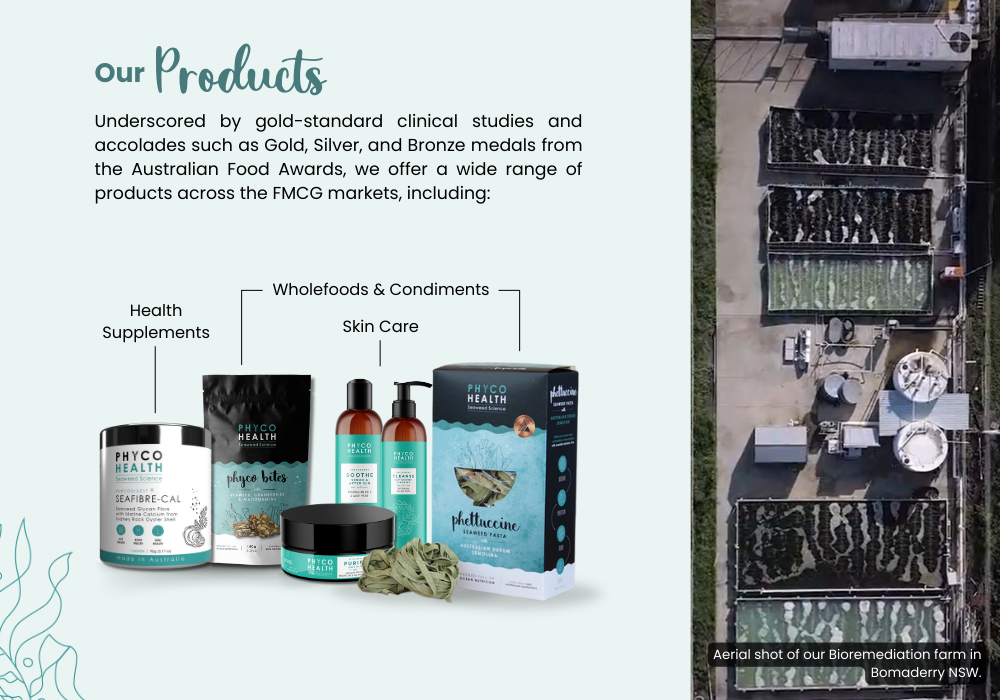 Our unique solution for more complete nutrition from seaweed in staple foods has proven itself, and we have reached the capacity of our state of the art system. We now need to scale our solution for better human health and more sustainable food production.
---
The Industry
We have seen the fortified and functional foods market grow to $6.7B (AUD) (Source: https://research.csiro.au/foodag/health-and-wellbeing/fortified-and-functional-foods/), and the world production of seaweed has more than tripled from 10.6 million tonnes in 2000 to 34.6 million tonnes in 2019. (Source: The State of World Fisheries and Aquaculture (SOFIA) 2022 by Knowledge for Policy).
The global market size for seaweeds is anticipated to reach approximately $20.15 Billion (USD) in 2023, and continue growing to $32.46 Billion (USD) by 2027 (Source: Seaweed Cultivation Global Market Report 2023, Research and Markets). PhycoHealth has been leading in this emerging market in Australia, but with a competitive differentiation to most seaweeds being cultivated today.
Our market opportunities are bigger for food and whole health due to a more balanced nutritional profile (specifically iron, iodine, B12 and protein), and unique in the bioactivity of our seaweed extracts with human skin (the only plant based equivalent of hyaluronic acid and chondroitin sulfate used for tissue repair).
With increasing demand for sustainable, plant-based products as the single biggest thing we can do per dollar spent to reduce our impact on the planet, and the potential for significant environmental regeneration, PhycoHealth is strategically positioned to capitalise on these rapidly expanding industries. First on our home turf of Australia and already starting to emerge in global markets.
---
Competitive Advantage
With our distinctive knowledge and vertically integrated supply chain, we've unlocked numerous expansion possibilities all with the mission in focus of smarter human ecosystems for healthier people on a better planet.
The future needs system solutions, not simple ones.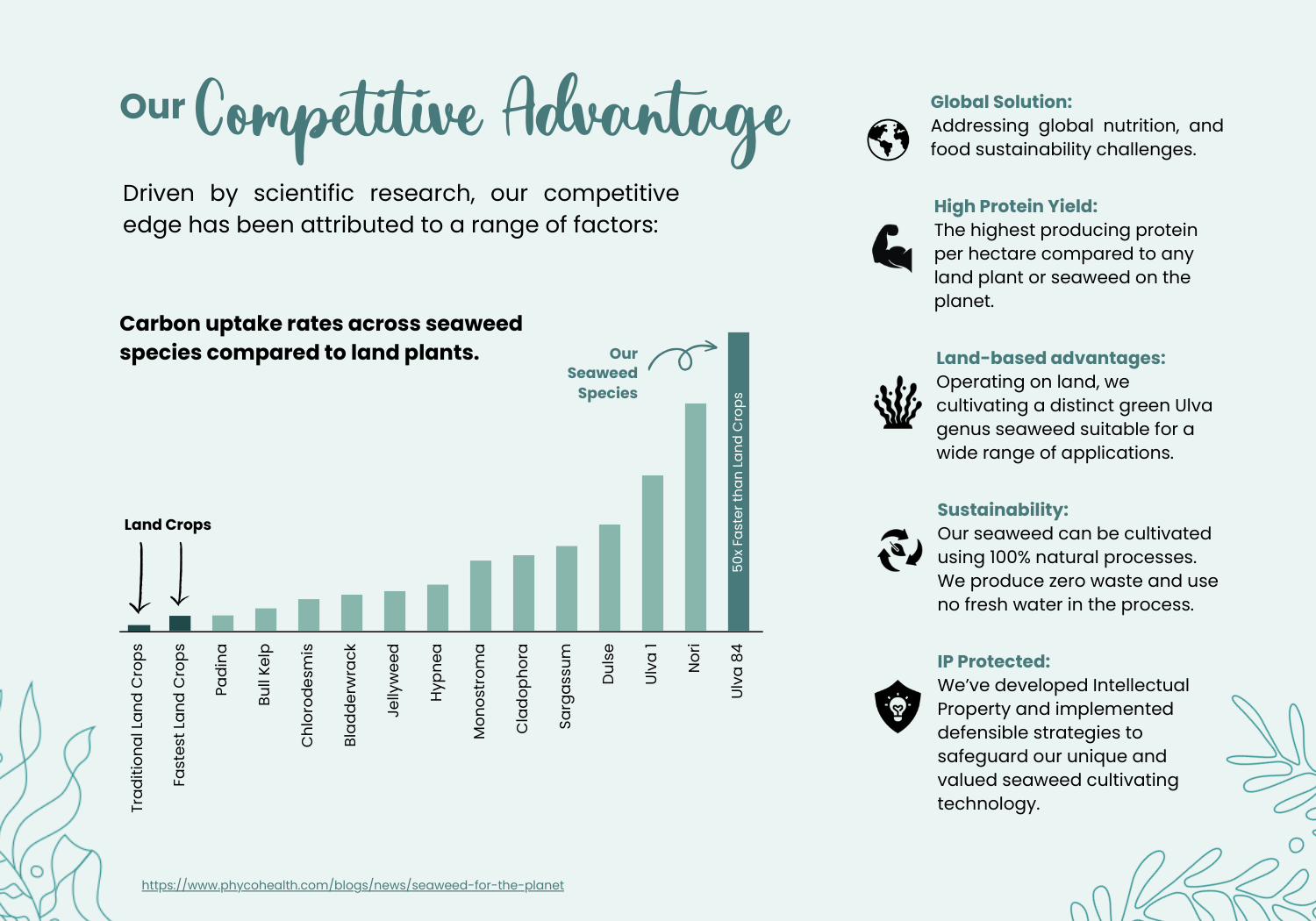 Created and de-risked the fastest growing seaweed system on the planet.

Nutritionally dense, clinically tested and trademarked ingredients already implemented into a wide range of Fast Moving Consumer Goods.

Australia's only land-based seaweed technology for food and biotechnology.

Consistently demonstrated that we can deliver substantial amounts of protein, nutrient, and fibre-rich ingredients from seaweed for food, de-risking, optimising and demonstrating that our system works and can deliver to market since its test tube beginnings 8 years ago.

Developed the only plant based alternatives to skin and health care ingredients such as hyaluronic acid, glucosamine and chondroitin sulfate

Our trademarked technology is highly scalable, fully traceable and gives us control over the entire production process.

An ongoing research program set to deliver breakthrough molecules for biotechnology and human health

20+ years of scientific research and industry exprertise; Dr. Pia and key staff at PhycoHealth have played a pivotal role in driving the development and standards of Australia's emerging seaweed sector.

Contributions as an authority in industry reports and scientific publications, shaping the landscape with insights like 'Best Practices for the emerging Australian Seaweed Industry' (2017) (Source: Best Practices for the emerging Australian Seaweed Industry, AgriFutures Australia)'.
---
Business Model
Summary
PhycoHealth built an operational land-based seaweed cultivation facility in Bomaderry, NSW, in 2015 to address lost CO2 from a giant distillery and convert it into a supercrop. Since then we have de-risked and developed a fully traceable sea-to-spoon ecological technology, and built a commercially scaled seaweed processing facility to provide highly nutritious ingredients for society at scale.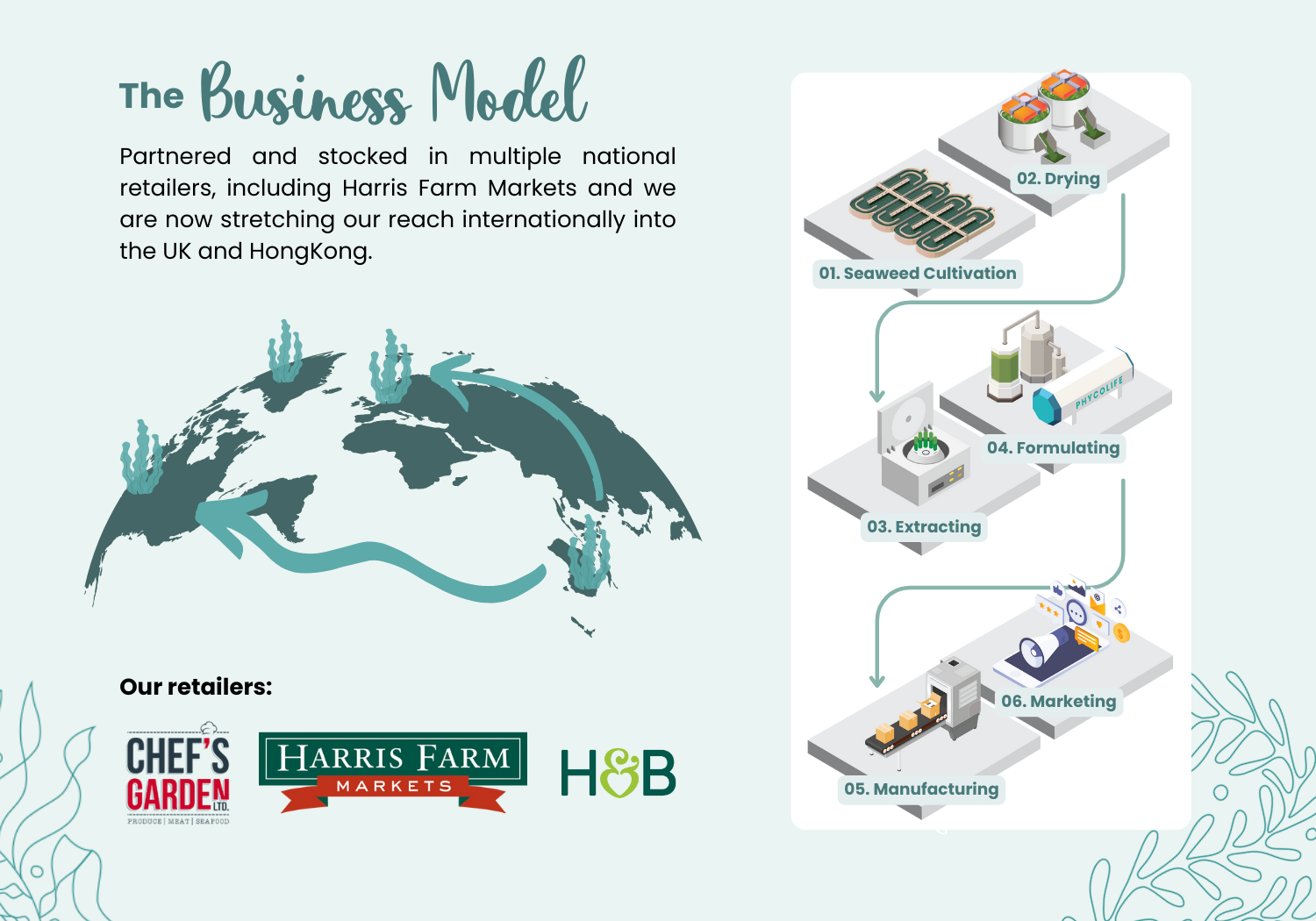 Description:
We have two major revenue streams that have led to year-on-year growth:
E-commerce:
Over 62,000 DTC Sales to Date with a 60% rate of returning customers.
Retailers:
Partnered and stocked in multiple national retailers, including Harris Farm Markets since 2019, and we are now stretching our reach internationally into the UK and Hong Kong.
We have agreements in place to roll out our products with one of the UK's largest chains of health and wellness food stores, Holland and Barrett.
FY23 & Beyond:
Based on our financial modelling, expanding the Bomaderry seaweed cultivation facility to 0.5 hectares should enable us to reach a commercially viable scale from our products. We plan to take the next step to establish a new area of 0.2 hectares of new seaweed cultivation at a new site that we can expand from.
We anticipate this will:
increase our production capacity fourfold

increase our production capacity to yield 20 tonnes of dried seaweed or 200 tonnes of fresh seaweed annually
This move also opens up opportunities to expand finished product sales and supply our intel ingredients to other brands.
R&D in the Biotech Industry:
Whilst still under development, extracts from our endemic Ulva species of seaweed have been proven to:
create biological components that can support the re-growth of full-thickness skin tissue.

contribute to microbiome and human health solutions that help in the recovery from and prevention of inflammatory diseases

be the only plant-sourced alternatives for animal-sourced ingredients such as chondroitin sulphate, glucosamine, hyaluronic acid and vitamin B12.
Pending the success of this crowdfunding raise, part of the investment would be utilised to fund the commercialisation strategy and further research that continues to oleverage these exciting discveries and ongoing innovation.
---
Risks
PhycoHealth manages financial and operational risk through our 20+ years science-backed knowledge and hands-on operational expertise. We have been in the market and continued to prevail through significant challenges. During the 2020 fires and the COVID-19 pandemic, we successfully navigated supply issues and equipment risks while constructing our factory. Additionally, we adapted to unprecedented flood conditions, developing rapid recirculation and isolation systems to overcome obstacles, albeit with some limitations on our growth opportunities. Our risk insights have equipped us to build a strategy that is resilient and primed for success.
We are scaling our cultivation facility in Bomaderry, NSW. We see four key risks to manage:
Technology Risk: Technological platform is proven to industrial scale. Our technology started with research since 1998 and our cultivation system was first established in 2015. It has been operational for years and we have developed systems with redundancies across multiple factors (equipment failures, flood events, temperature challenges, other species) - with our keep it simple stupid (K.I.S.S. and inexpensive) approach, but with deep technological, molecular and ecosystem insight.

Operational Costs: With the planned expansion of our Bomaderry facility, and the development of smart systems, the cost per unit of products is expected to decrease significantly. Our current staff and processing systems will be able to manage increased volumes at lower cost per production rates. This will allow greater volume in sales and get us past the breakeven point to invest further in international exports and will ultimately result in increased Gross Profit margins.

Market Opportunity: We have established multiple, multichannel, and multi-faceted market opportunities for growth. We can act as both an end brand and an ingredient supplier in multiple sectors, ensuring our business has been built to pivot and adapt to market demand, while minimising risk. These include our own e-commerce platform with 60% returning customer rates since 2017, as well as third party e-commerce (Healthy Life, Buy Natural and AMAZON) and retail stores. Increasingly clinicians and independent stores are seeking our range, and we need to achieve improved margins from economies of scale to be able to take on distributors.

Intellectual Property: We have developed decades worth of Intellectual Property and put in place defensible strategies across a complex vertical chain on deep technologies, to protect our unique and fast seaweed cultivation technology, molecular extraction and clinically proven products. Our brands are trademarked in Australia and this investment will allow us to protect our brands internationally.
---
Use of Funds
The funds we are raising with Swarmer will be used for these purposes:
Scale our proprietary cultivation technology at the Bomaderry facility to develop more products for people and animals - all while preserving the planet.

Implement more deep-tech control and optimisation of our cultivation systems for an increasingly efficient approach with the potential for even higher yields per area as we scale.

Allocate funds for strategic partnerships and marketing of our existing brands for broader market access and recurring revenue generation opportunities

Explore new opportunities for our trademarked ingredients and technology to be used in the health, clinical and biotech sector.
---
About Swarmer
Swarmer is an Australian equity crowdfunding platform connecting businesses and investors. Designed to support start-ups, growth companies and scale-ups we allow everyday investors to own a share in businesses that are the future. We hold Australian Financial Services License (AFS License #507867).
Find out more about becoming a shareholder via Equity Crowdfunding through Swarmer.