Reasons To Invest
Fast member growth: Currently 30,000+ members and growing 63% in the last 12 months.
The right team: Co-founded by acclaimed gardening, community building and impact entrepreneurs.
Diverse revenue streams: proven fast growing B2G (business to government) & D2C (direct to consumer) revenue.
Accelerating revenue: 227% revenue growth in the last year to $500,000+ (AUD).
Subscription product ready to scale: Piloted subscription product in November 22. Achieved pilot targets (1,000+ subscribers) in 4 months. $100,000+ (AUD) in annualised revenue since the launch of the pilot in November 2022. Now ready to scale.
Local, state & territory government revenue: annual subscriptions secured with 31 Local and 3 state/territory governments in Australia providing reach to 5 million+ Australians.
Retail product launch Autumn 2024: Retail agreement signed with Australia's largest seed merchant and distributor, Mr Fothergills, for a soon to be released range of education-enabled seeds.
Sustainability at scale: positive impact generated by the community include 60,090kgs of food waste diverted from landfill each week, 120,180kgs of carbon emissions avoided per week and 41,857 milk crates of produce being grown in communities across Australia each month.
High profile ambassadors & educators: content & workshops curated by Paul West and featuring high profile celebrity talent and next generation influencers.
Globally leading data & insights: Grow It Local's data set is the world's leading annual study of the impacts of homegrowers.
Strategic partnerships: working with some of the world's leading sustainability and environmental leaders including Patagonia and Seasol.
---
What is Grow It Local?
Grow it Local gives you the opportunity to learn from Australia's leading growers, chefs and local food heroes.
No matter who you are, where you live or how much space you have, you can learn to grow alongside a national community of backyard, balcony, community garden, school and windowsill farmers.
We're growing fast, with revenue up 227% to $500,000+ (AUD) in the last year, partnerships signed with 31 Local and 3 state/Territory governments, and a newly piloted consumer subscription service that's achieved its acquisition targets (1,000 subscribers) within four months of launch - proving that Aussies have a huge appetite to be guided and supported in their growing journey, from patch-to-plate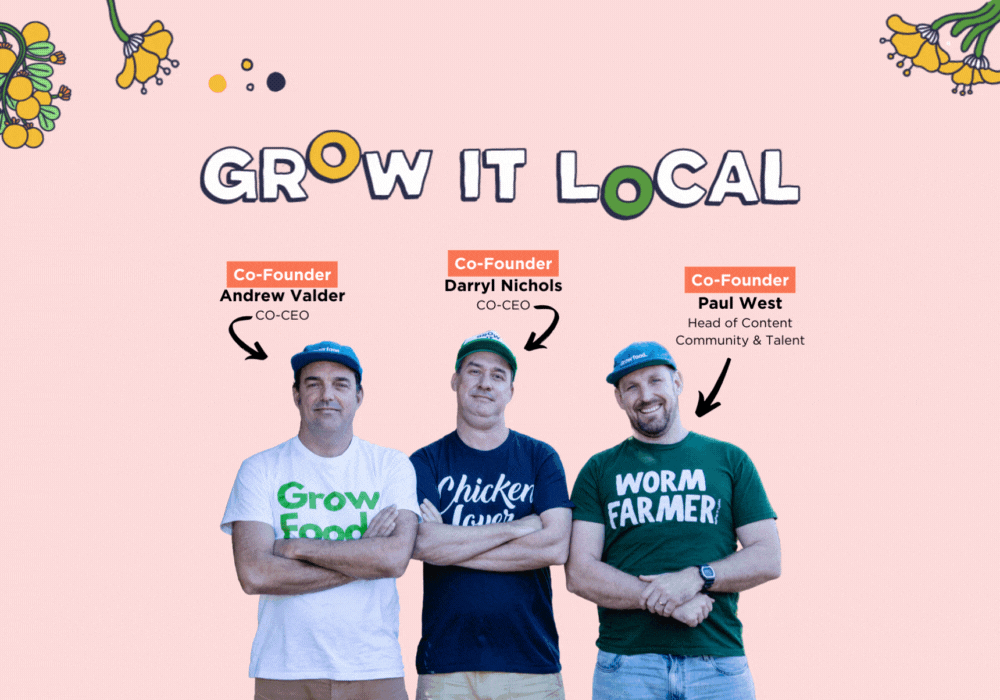 With an existing community of 30,000+ growers and leading talent, we have already planted our seed in an industry that reaches 1 in 2 Australian households, and hundreds of millions of home growers around the globe.
---
What Do I Get If I Invest?
By investing through Equity Crowdfunding, you will own shares in Grow It Local and be part of their journey by becoming a shareholder. That means that you have a stake in the long-term success of the business should a liquidity event take place. To find out more about becoming a shareholder and what this means review our Investor Page.
In addition to becoming a shareholder of Grow It Local, a range of perks and benefits will be available as a thank you to the investors.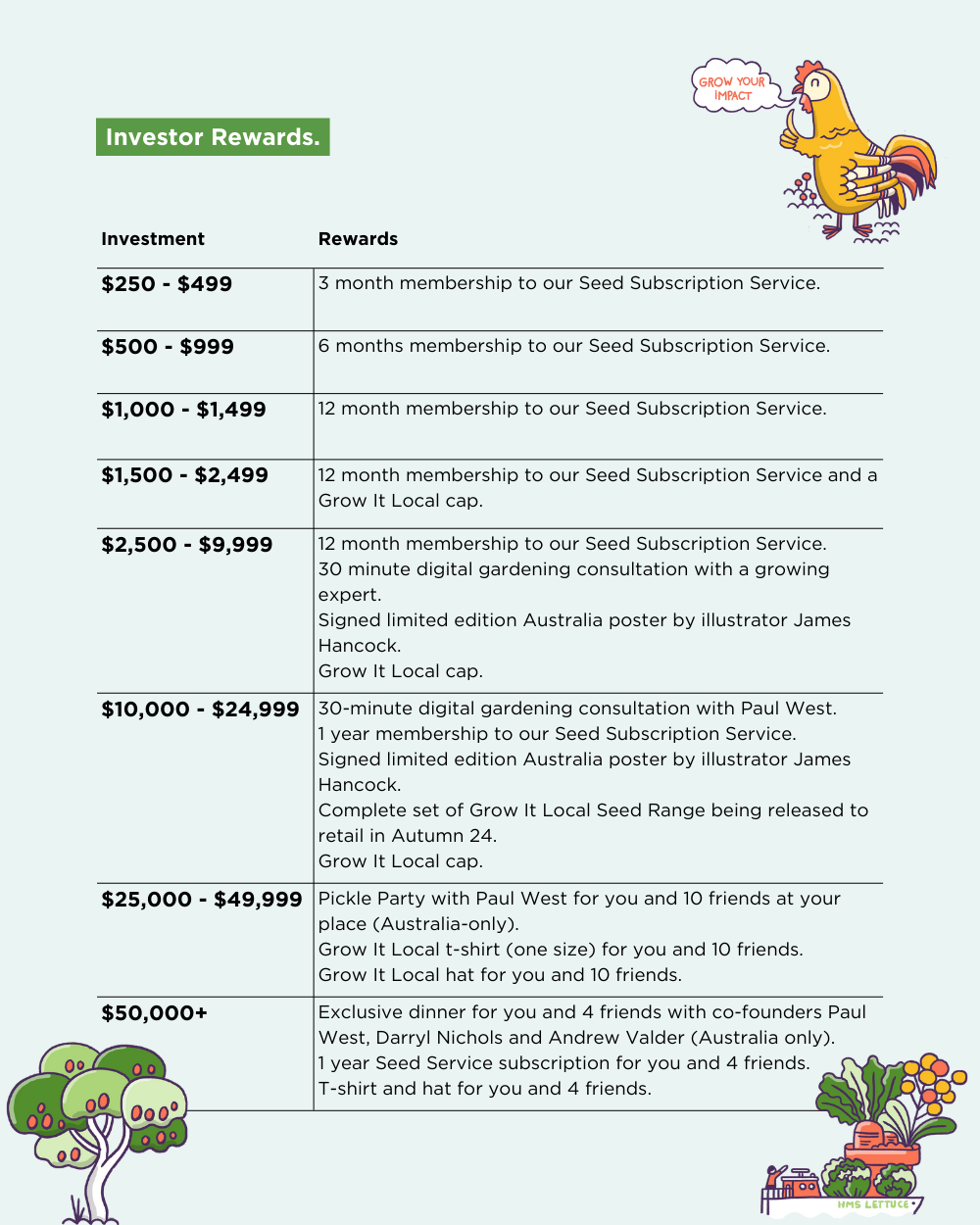 ---
The Problem
More and more people, here in Australia and all around the world, are trying to grow food at home.
This is being driven by five key motivations:
For mental health and well being
To connect with nature
To live more sustainably and do their bit for the planet
To save money
For the freshest, naturally nutritious and delicious flavours
But learning to grow is fraught with difficulty and most people learn by trial & error, which takes forever.
Navigating the complexities of what, where, why, and how to grow your food, in addition to companion planting, pest control, harvesting and cooking based on your location and personal preferences is often a recipe for complications and failures.
Enter Grow It Local…
---
Our Solution
Grow It Local is solving this problem using a unique approach that combines technology, community, online education and impact. We are building a catalogue of guided growing experiences, content journeys, education-enabled products, and digital services that help people learn to grow and track their impacts from patch-to-plate.
We have a single platform (currently only available in Australia) that services the needs of government, consumers and business:
Our government subscription service helps local governments deliver on key environmental policies, reducing food waste through conscious food usage and reducing landfill through composting. It connects local government communities through growing and preparing food - building more resilient communities. Our data products enable partner organisations to make better decisions and understand their impact. Improving mental health & well being for individuals, communities, and the planet.
Our consumer subscription service provides a step-by-step and end-to-end learning experience, making growing and preparing food more accessible to everyone. It connects families and communities through physical and mental wellness activities.
Our business proposition helps manufacturers in the gardening and wellbeing industries access engaged audiences. We are actively exploring licencing our brand and concept to manufacturers to create differentiated lines of retail products.

Our network of government and business partners help drive awareness to consumers driving customer acquisition into seed subscription product and improving our businesses unit economics.
Welcome to Grow It Local - where the world learns to grow, together.
Can you dig it?!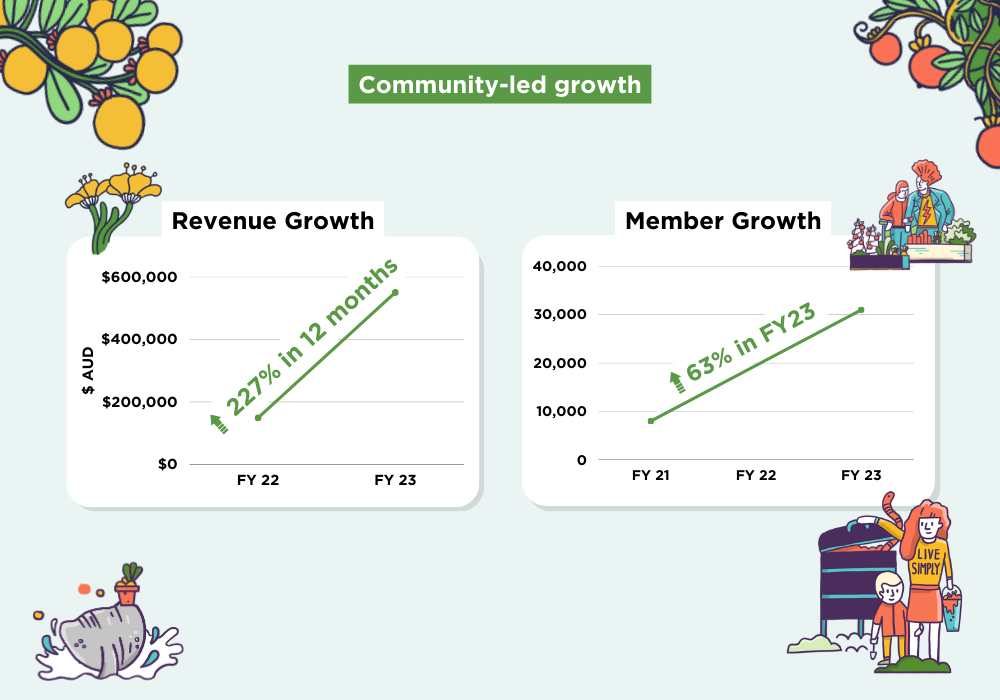 ---
Business Model
Our business model is rooted in three key existing revenue streams and two future revenue streams. .
Existing Revenue Streams:
Government subscription product: presently supported by 31 local and 3 state and territory government partners across the country. These partnerships provide local authorities and their communities with access to educational content, workshops, seed subscriptions and localised impact reporting.
Consumer subscription product: a pilot product was launched in November 2022. After only four months pilot targets were achieved with 1000 subscribers signed up to receive seasonal 'grow-alongs' curated by established growers and chefs whom guide & support members on their patch-to-plate journey
Corporate partnerships: working with value-aligned brands we love like Seasol and Patagonia help to build awareness, deliver food growing education and communicate the environmental impacts of growing in communities across Australia.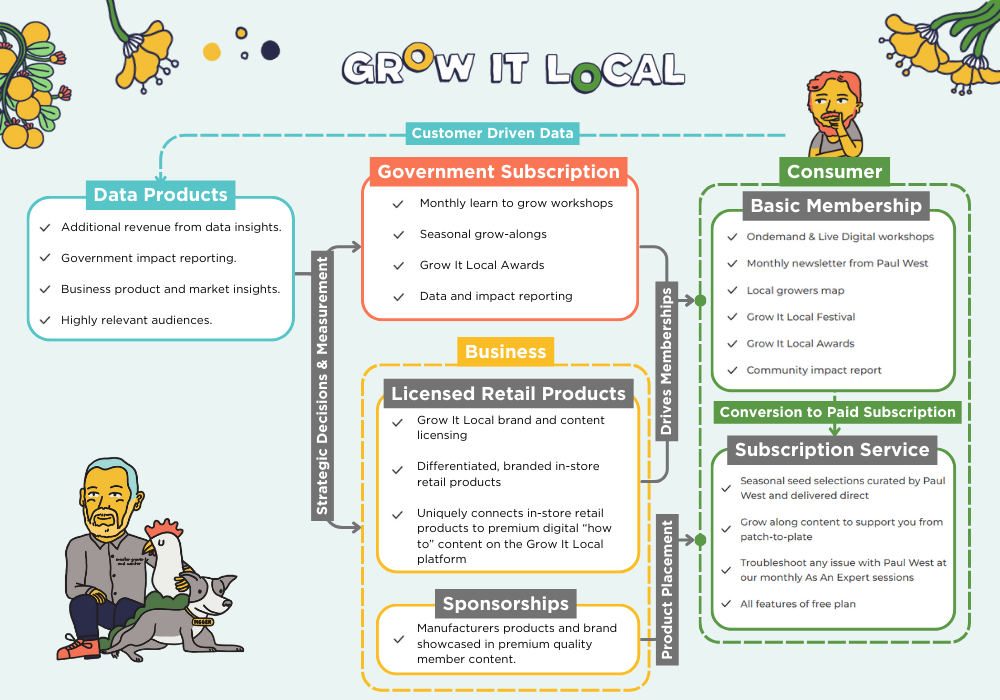 Future Revenue Streams:
Retail seed range: featuring a 24 SKU range of seeds that is education-enabled and due to be released with Australia's largest seed retail merchant, Mr Fothergills, from autumn 2024.

Merchandise: a range of Grow It Local merchandise for people who love to grow launching with Love Police in December 2023.
---
Competitive Advantage
Grow It Local's business uniquely spans multiple industries; online education, home garden supplies, health and well-being, and sustainable living. We provide a connected growing experience through our digital platform and the IRL experience of growing food.
We provide members with a guided and fully supported end-to-end, "patch-to-plate" experience. From how to prepare the soil, and correctly use gardening tools, to seed propagation, nurturing and harvesting plants all the way to preparing and cooking nutritious meals.
Our go-to-market strategy enables us to significantly reduce the cost of customer acquisition into a subscription service through a complementary multi-channel approach:
Government partnerships amplify our brand and drives customers to our digital platform through their communication channels and events;
QR codes and embedded digital content connected to our retail products drive customers to our digital platform and community;
Our subscription service creates awareness of our proposition through social gamification and sharing of member growing and cooking achievements;
Our online community marketplace will drive new members as our existing audience grows and scales the use of the platform.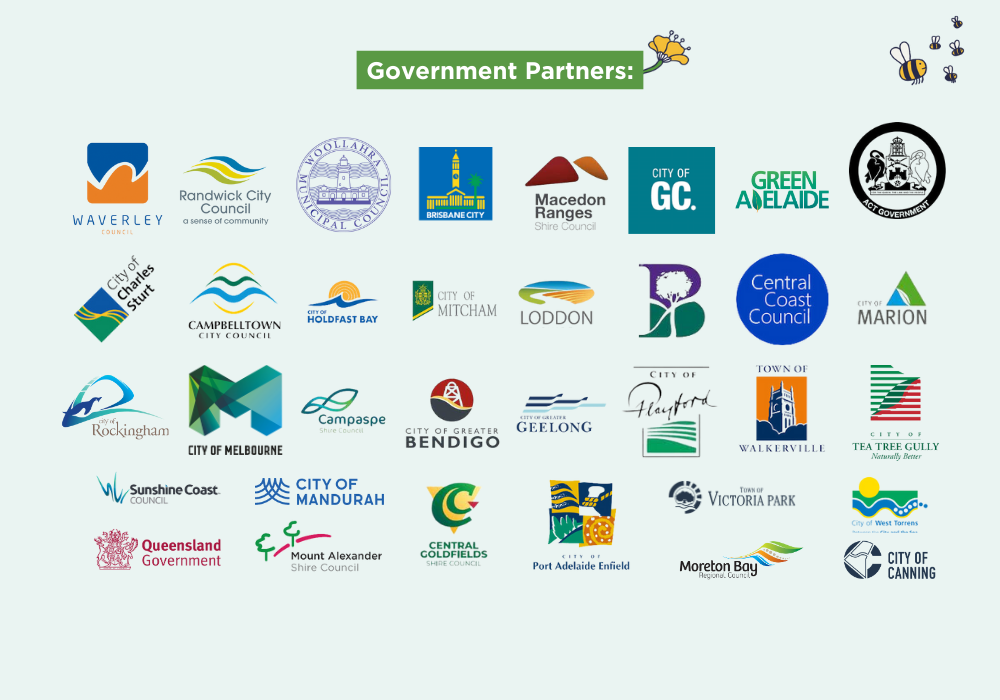 These complementary in-market interactions will continue to amplify over time and improve the unit economics of our subscription service. Brand partnerships and sponsorship revenue opportunities will also grow commensurately as our subscription service scales.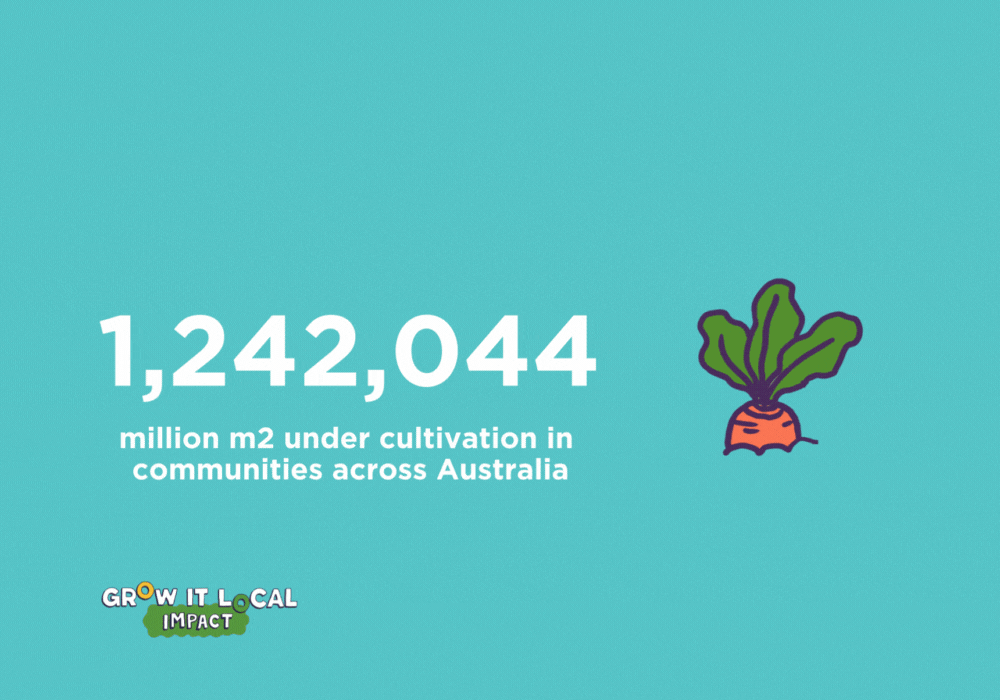 ---
Risks
Grow It Local manages financial and operational risk through our teams' knowledge and expertise in the gardening sector, in addition to our track record building communities and businesses. Our risk insights have equipped us to build a strategy that is scalable and defensible with diversified revenue streams. Grow with us and we will build something amazing together!
The key risks include:
Funding: The company is raising funds to meet its growth objectives and expansion expenses. There's no guarantee that it will secure all the necessary funding, which could affect its value.
Market Opportunity: We've created numerous, diversified market avenues for expansion through products, subscription models and educational material. Allocating resources efficiently will be a priority in order to scale quantity and quality in parallel.
Competition Risk: Operating in a competitive market, new competitors could emerge. Failure to compete successfully could impact revenue and profitability.
Reliance on Key Personnel: Our talent of growers and chefs drive membership growth and are important for content production. Losing them could adversely affect the business.
Economic and Market Conditions: External factors like economic conditions, political instability, and regulatory changes may impact the company's revenues, costs, and profit margins. These factors are beyond the company's control.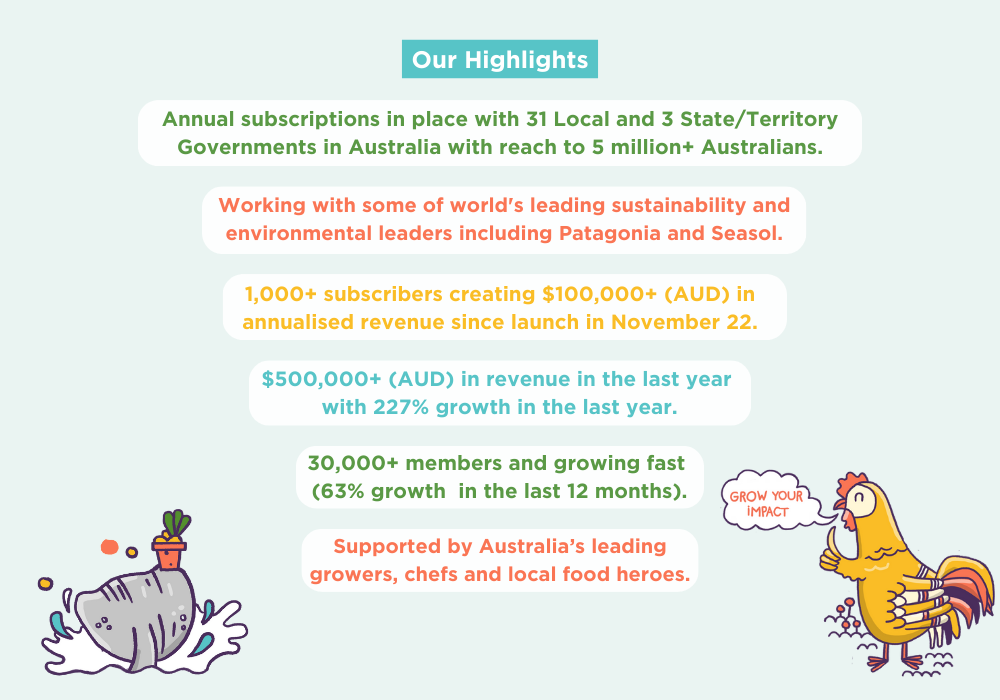 ---
Use of Funds
This Equity Crowdfunding raise will enable the business to accelerate growth with capital being used to:
Evolve and scale our digital platform in preparation for global rollout
Expand our subscription products.
Launch retail and merchandise revenue channels
Build our data insights and impact reporting capacity.
Sign more partnerships with more government organisations and value-aligned brands.
Create the world's leading catalogue of grow-alongs and educational content for home growers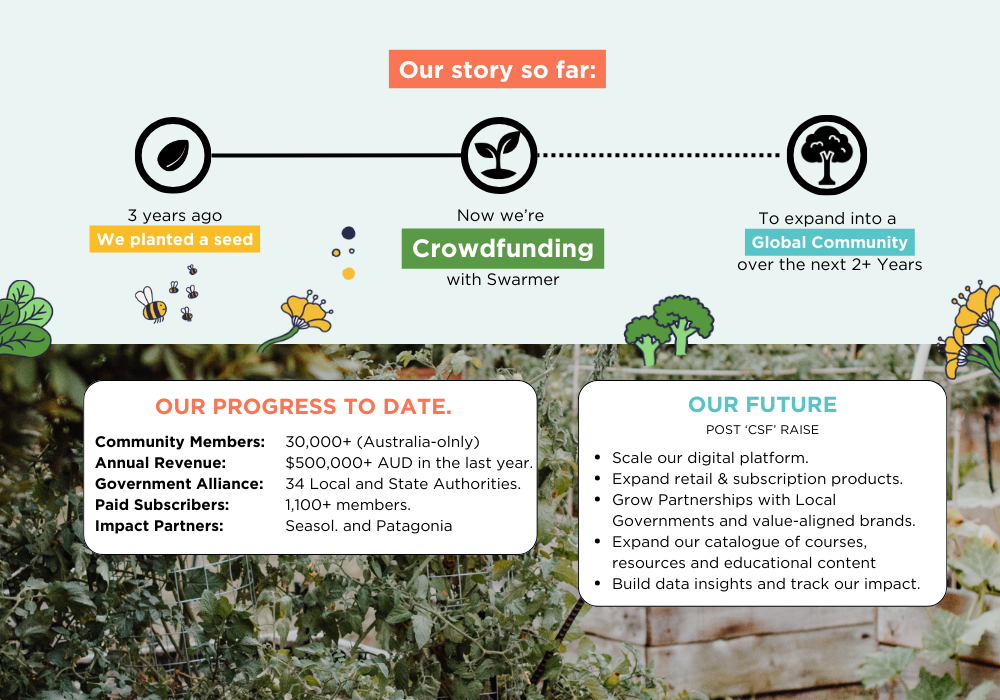 ---
Macro Trends that are Powering the Homegrown Revolution
Rising food prices are straining budgets and contributing to diet-related and mental health issues. Governments are advocating for change at the grassroots level and have identified a need for enhanced access to education and resources to strengthen the connection between Australians and their food and ultimately address micro and macro challenges for individuals and the planet.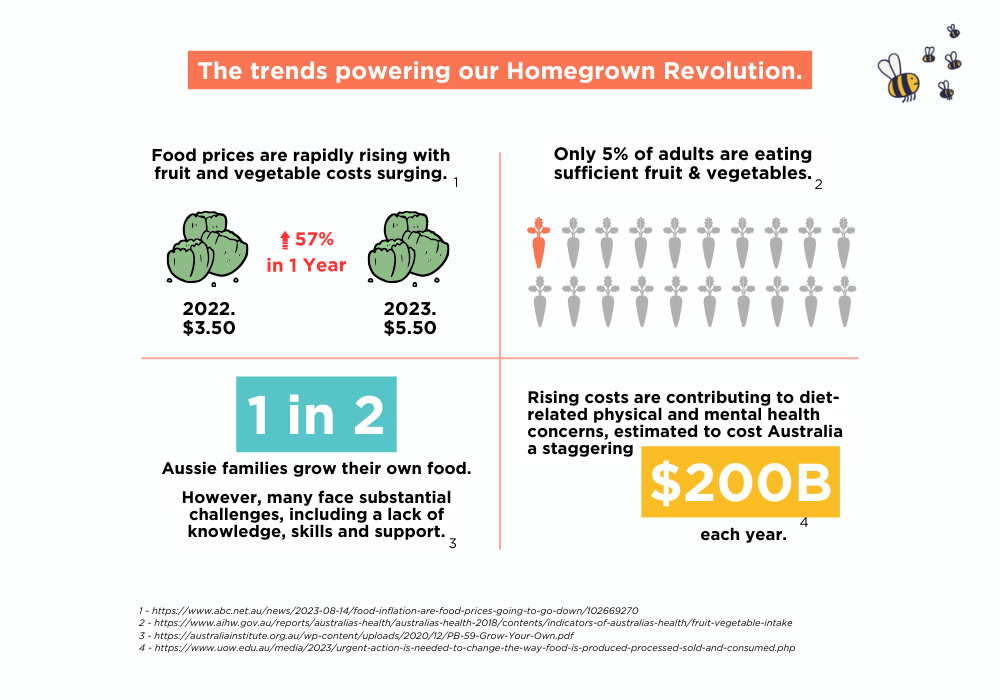 ---
About Swarmer
Swarmer is an Australian equity crowdfunding platform connecting businesses and investors. Designed to support start-ups, growth companies and scale-ups we allow everyday investors to own a share in businesses that are the future. We hold Australian Financial Services License (AFS License #507867).
Find out more about becoming a shareholder via Equity Crowd Funding.