Reasons To Invest
World first and only: Queensland Camel Company Pty Ltd (QCamel) is the producer of the world's first 'Certified' Organic Pasteurised Camel Milk.
Growing customer based: QCamel milk, products and skincare are available direct to the consumer online and via a growing network of more than 60 supermarkets and health stores such as Harris Farm Markets, IGA, Flannery's.
Increased volume: QCamel's current annual sales volume is 10,000 L/annum, with the purchase of additional stock during 2023 we are on track to produce 40,000L/annum by end 2024.
Readiness for Export: Commenced export accreditation in preparation for expansion to new markets – export of milk and milk products, and skincare
Growth of camel industry: Australia's commercial camel industry is experiencing growth, in part due to the disease-free reputation of Australian camels, and the demand for camel milk, meat and milk products – driven by increasing consumer awareness of the known beneficial properties of camel milk.
Ethical farming: Our commitment to ethical farming and production ensures that we optimally meet our high standard of humane camel husbandry practices.
Award Winning: Gold and Silver medals at several Australian and Queensland Dairy & Food and Wine show. Selected one of 50 Innovative Agribusinesses in Australia by Food Innovation Australia Ltd (FIAL)
Scaled-up: We've already scaled up operations and sized up our camel stock in readiness for increased volume and export.
TGA and EU ready: Our skincare has been developed in line with TGA and EU standards, with the process to secure approvals commenced.
Biotechnology: We've started the journey of innovating camel milk derived Nutraceuticals
---
What do I get if I invest in QCamel
By investing through Equity Crowdfunding, you will own shares in Venus Shell Systems (VSS) and be part of our journey by becoming a shareholder. That means that you have a stake in the long-term success of the business should a liquidity event take place. To find out more about becoming a shareholder and what this means review our Investor Page.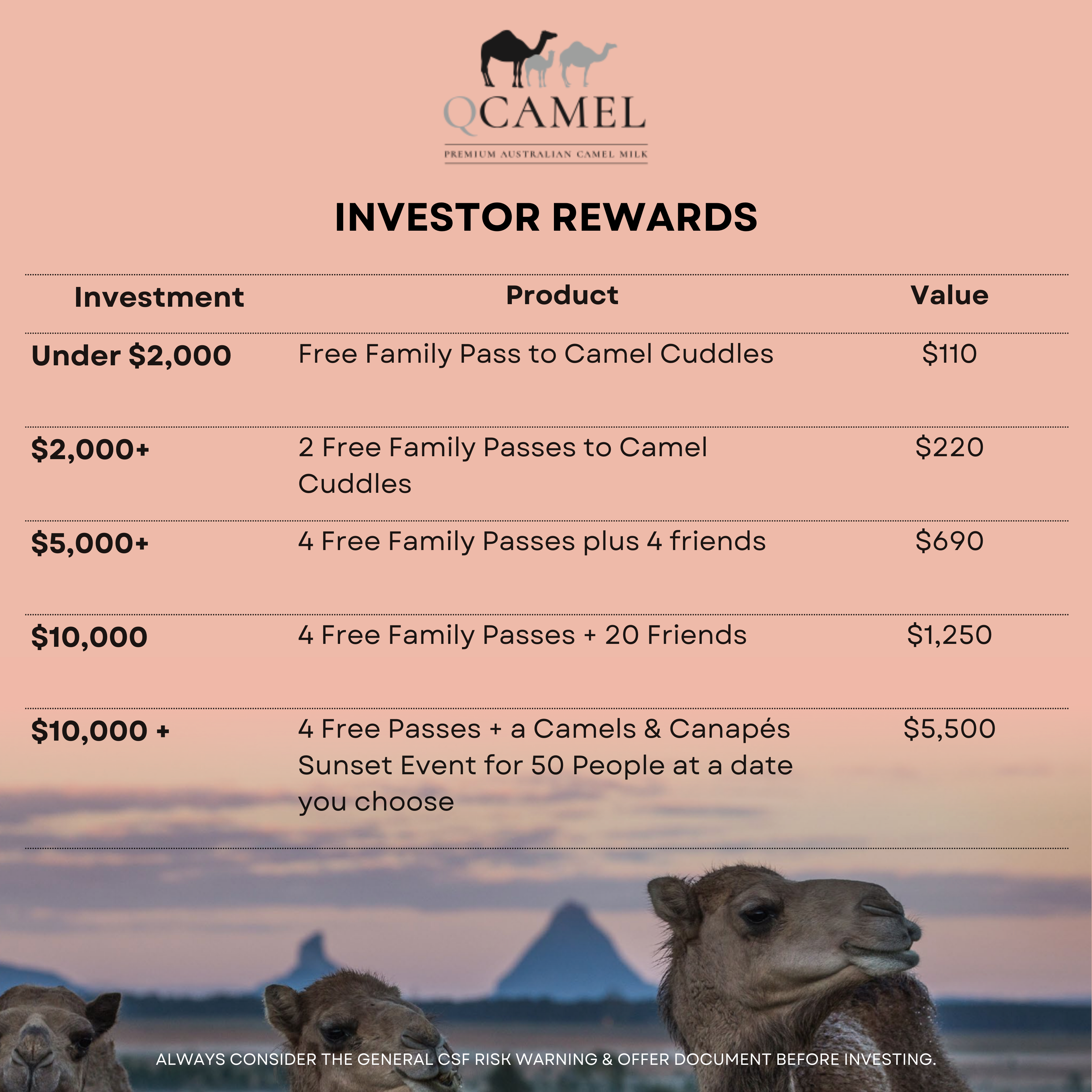 ---
What is QCamel
We're a family owned, biodynamic camel dairy, and proudly the world's only certified organic producer of pasteurised camel milk.
You may have seen us appear on Better Homes and Gardens, Totally Wild, or read about us in Women's Weekly or Qantas magazine - or you may even be one of our 540,000 followers on TikTok. Perhaps you've visited our farm, one of the largest properties for grazing our camels, located in the lush sub-tropical environment of the Sunshine coast overlooking the heritage Glass House Mountains.
While we are a small-to-medium sized agribusiness, we operate within the health and nutrition, agritourism and food and beverage sectors.
Since our launch in 2014, we have sustainably grown our Australian customer base since we started, making available a wide range of certified organic camel milk and award-winning milk products to our Australian consumers via online sales and door-to-door distribution, and through a growing network of more than 60 supermarkets and heath stores, including Harris Farms, IGA, Flannery's.
Our QCamel skincare Australia range of eight skincare products launched in 2020, has been developed to Therapeutic Goods Australia (TGA) and European Union (EU) Cosmetic standards, and was a culmination of a five-year R&D Project, concentrating on fresh organic camel milk (not powdered milk), healing essential oils and powerful Native Australian Botanicals with healing properties and has received positive feedback and anecdotal evidence highlighting the benefit on acne, skin irritations and dermatitis and burns caused by radiation.
Looking to tomorrow, our focus is on growth of the Australian market, export to new markets; and product innovation – building new streams of revenue, including probiotics and nutraceuticals.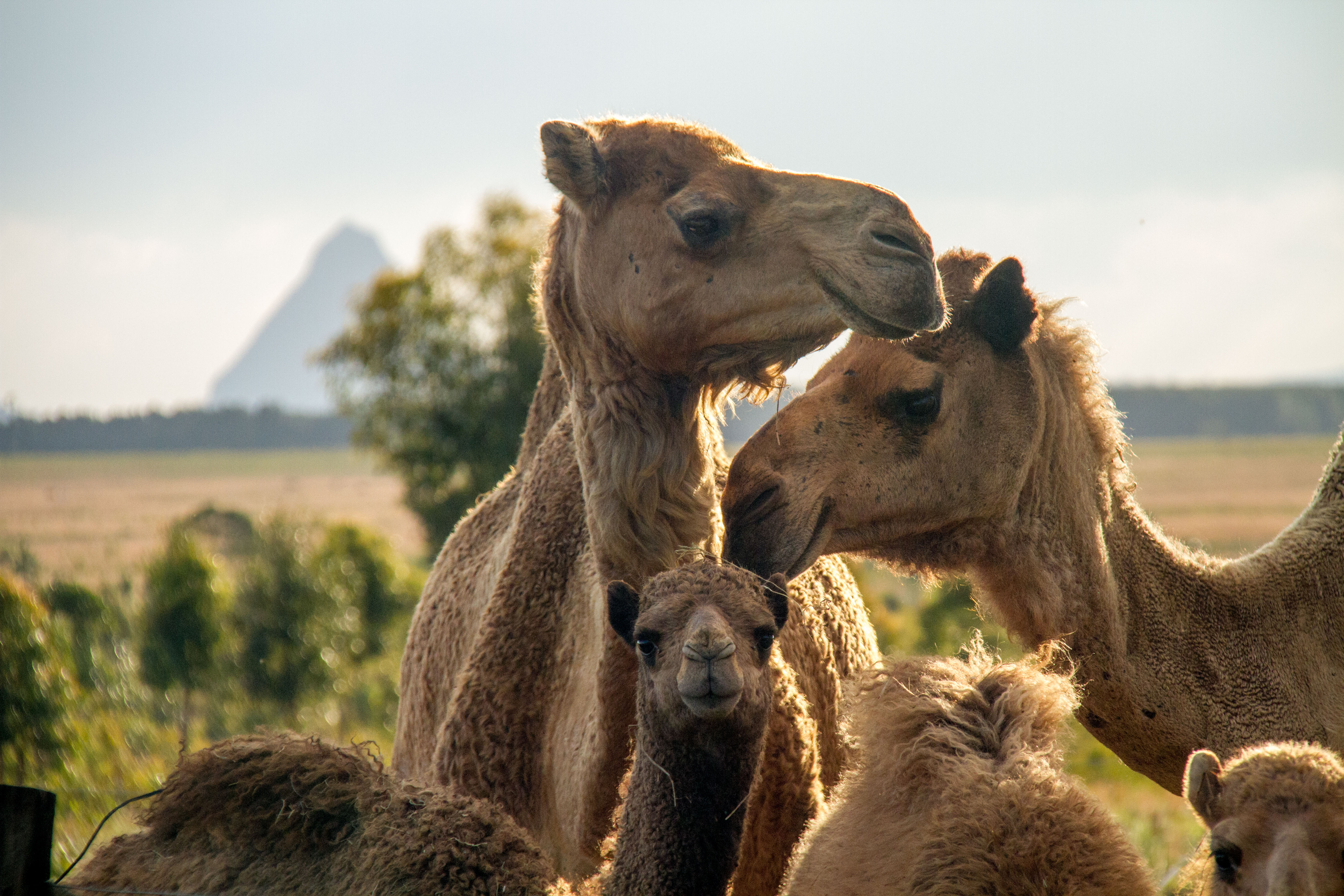 ---
Our Vision
To be a leading supplier of certified organic camel milk products, camel milk based ethical skincare and camel milk derived probiotics and nutraceuticals into the world-wide health market.
Our Mission
To give as many people as possible, globally, access to the increasingly researched and recognised beneficial properties of camel milk to boost health and well-being.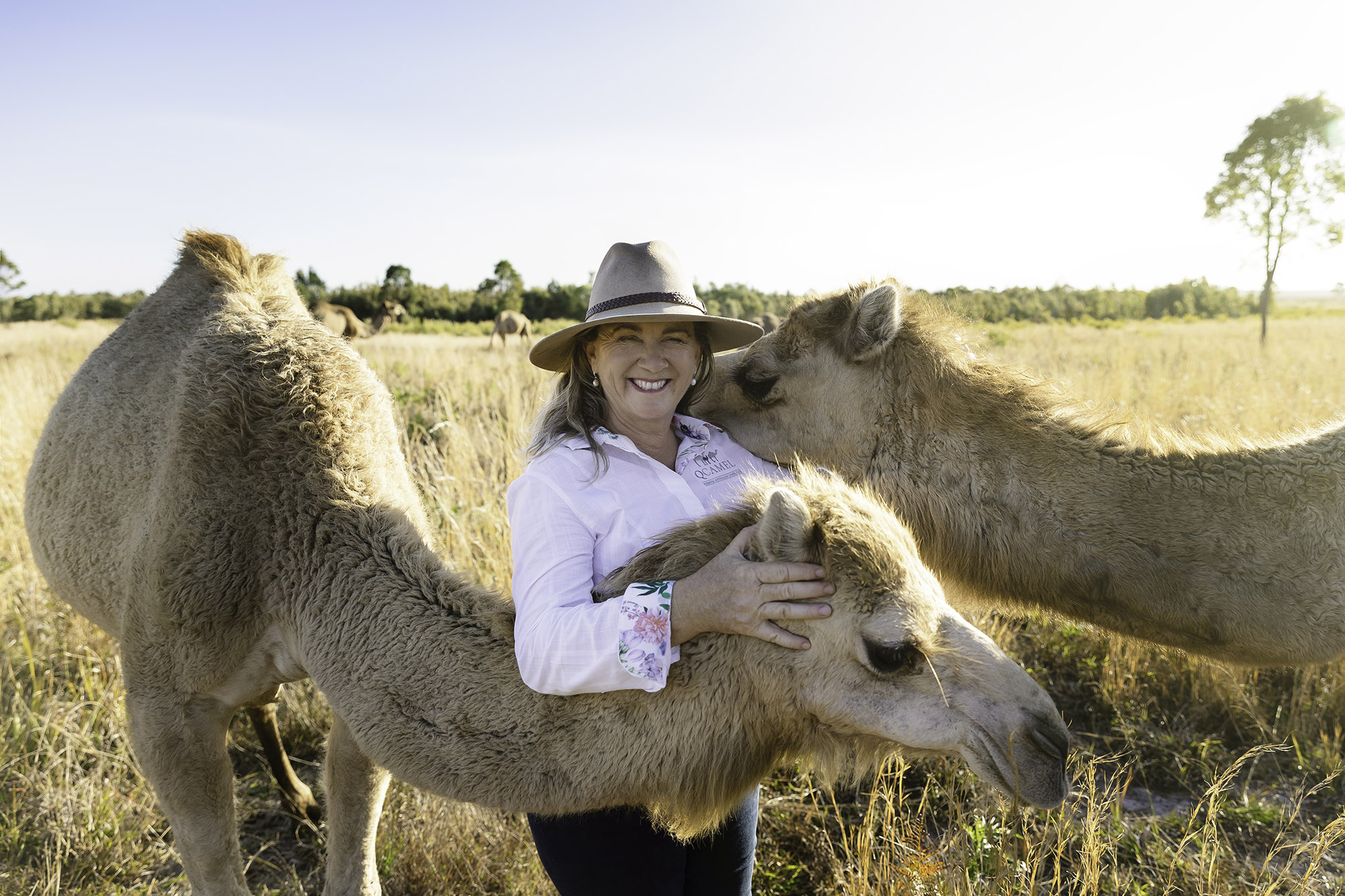 ---
Our Products
QCamel has established a strong brand and market position within Australia as the only certified organic producer of camel milk and offers a diverse range of camel milk products.
Camel Milk and Camel Milk Products
Our premium milk is pasteurised and non-homogenised, with a creamy body and delicious taste. As a good source of Calcium and Vitamin C, our milk is also naturally packed with Lactoferrin for fighting bacteria and healing the gut. As well as being very low in lactose and dairy allergens, suitable for lactose intolerant consumers, our Camel Milk does not contain β-lactoglobulin (β-LG), a major protein which is present in cow's milk that can trigger allergic reactions.
Our Food and Beverage products have been crafted and refined to a high standard, and our feta cheese has received accolades including the Gold Award by the Dairy Industry Association of Australia (DIAA) and Gold and Silver Awards, Cheese & Dairy Produce at the Royal Queensland Food & Wine Show.
1 litre
500 mls
Mango and Honey Yogurt Smoothie
Camel Milk Feta - Persian Feta with Sun-Dried Tomatoes & Basil – Received gold and silver accolades from the Dairy Industry Association of Australia and the Royal Queensland Food & Wine Show.
Dried Camel Milk Powder 200g (reconstitutes to 2L camel milk)
Skincare Range
The QCamel Skincare range is our culmination of years of research into the therapeutic benefits of Camel Milk, both in the body and on the skin.
In 2020, QCamel finalised a five-year R&D Project concentrating on fresh organic camel milk (not powdered milk), healing essential oils and powerful Native Australian Botanicals with healing properties culminating in the development Camel Milk Skincare (8 products) and the launch of QCamel Skincare Australia – with an initial quantity of 4000 items for sale. The skincare range has received positive customer feedback, with anecdotal evidence highlighting the benefit on acne, skin irritations and dermatitis and burns caused by radiation.
Our products are produced at European Union (EU) and Therapeutic Goods Administration (TGA) Standards ensuring each product meets skincare standards, with QCamel commencing the process to secure TGA approval in 2023, and EU approval (Regulation (EC) No. 1223/2009 on Cosmetics Products, among other regulatory approvals in other markets, in readiness for export.
The potency of camel milk in skin care comes from its naturally occurring Alpha Hydroxy Acids (AHAs), Immunoglobulins (IgGs) and vitamins and minerals. This structure enables it to deeply penetrate the dermis and epidermis layers to reduce oxidative stress, promote collagen production and heal the skin. Each of our QCamel Skincare products is further enhanced by individual native Australian botanicals, specifically chosen for their restorative properties.
No Sulphates | No Parabens | No Toxins | Cruelty Free |
Waratah Day Cream (50g)
Kangaroo Paw Flower Night Cream (50g)
Rosella Cleansing Cream (50g)
Emu Apple Face Mask (30g)
Melaleuca Snow Flower Skin Lightening Face Mask (30g)
Lilli Pilli Hand Wash (250g)
Lemon Myrtle Hand & Nail Cream (50g)
Kakadu Plum Lip Balm (5g)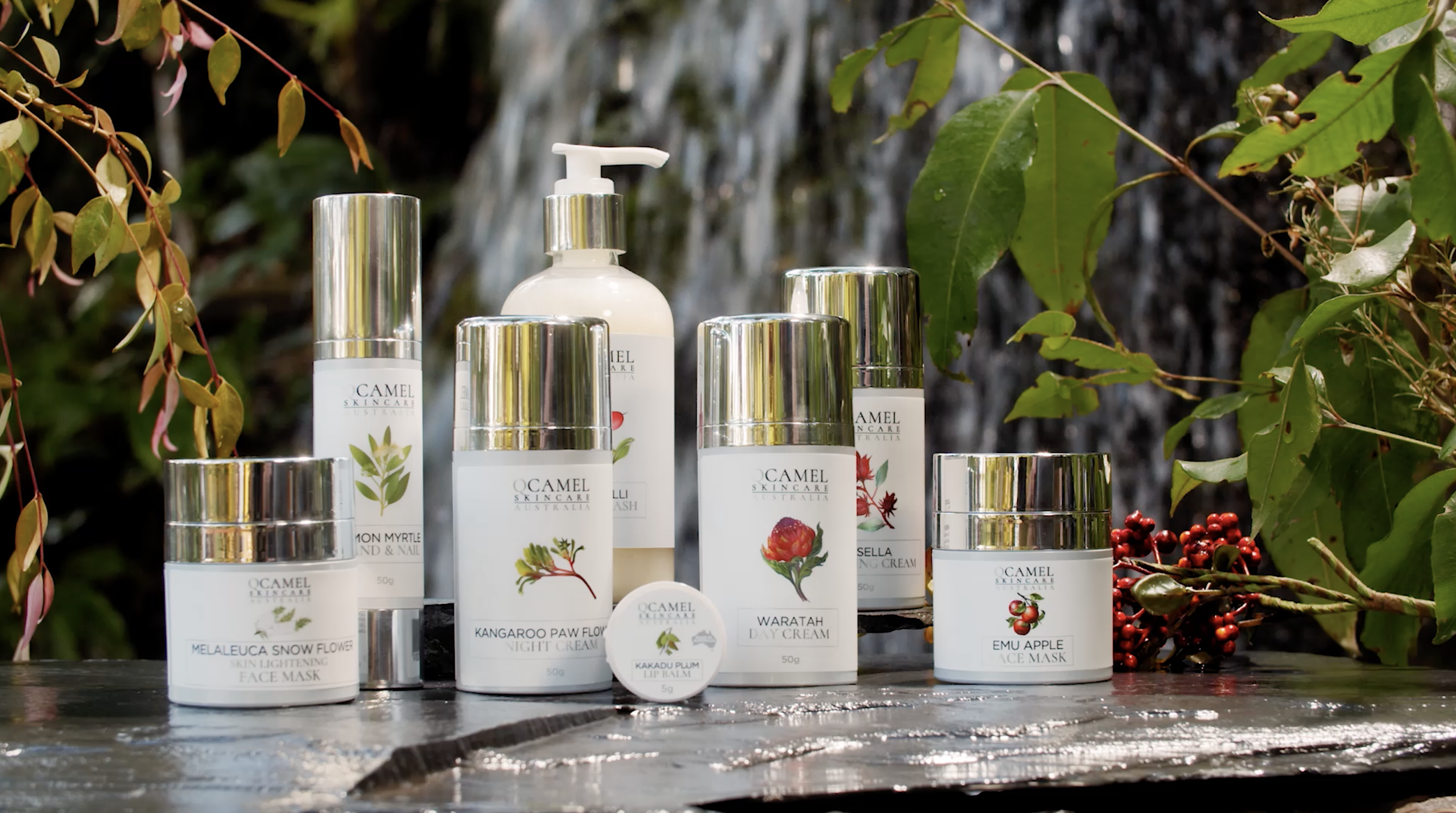 Farm Tours
QCamel opens its farm gates to offer 1-5 scheduled experiences a week. From community groups to international and local visitors from across Australia, people visit QCamel for an opportunity to experience our happy camels, who each respond to their name, roaming with their young and interacting as a herd in their natural environment – while overlooking the splendour of the Heritage Listed Glass House Mountains.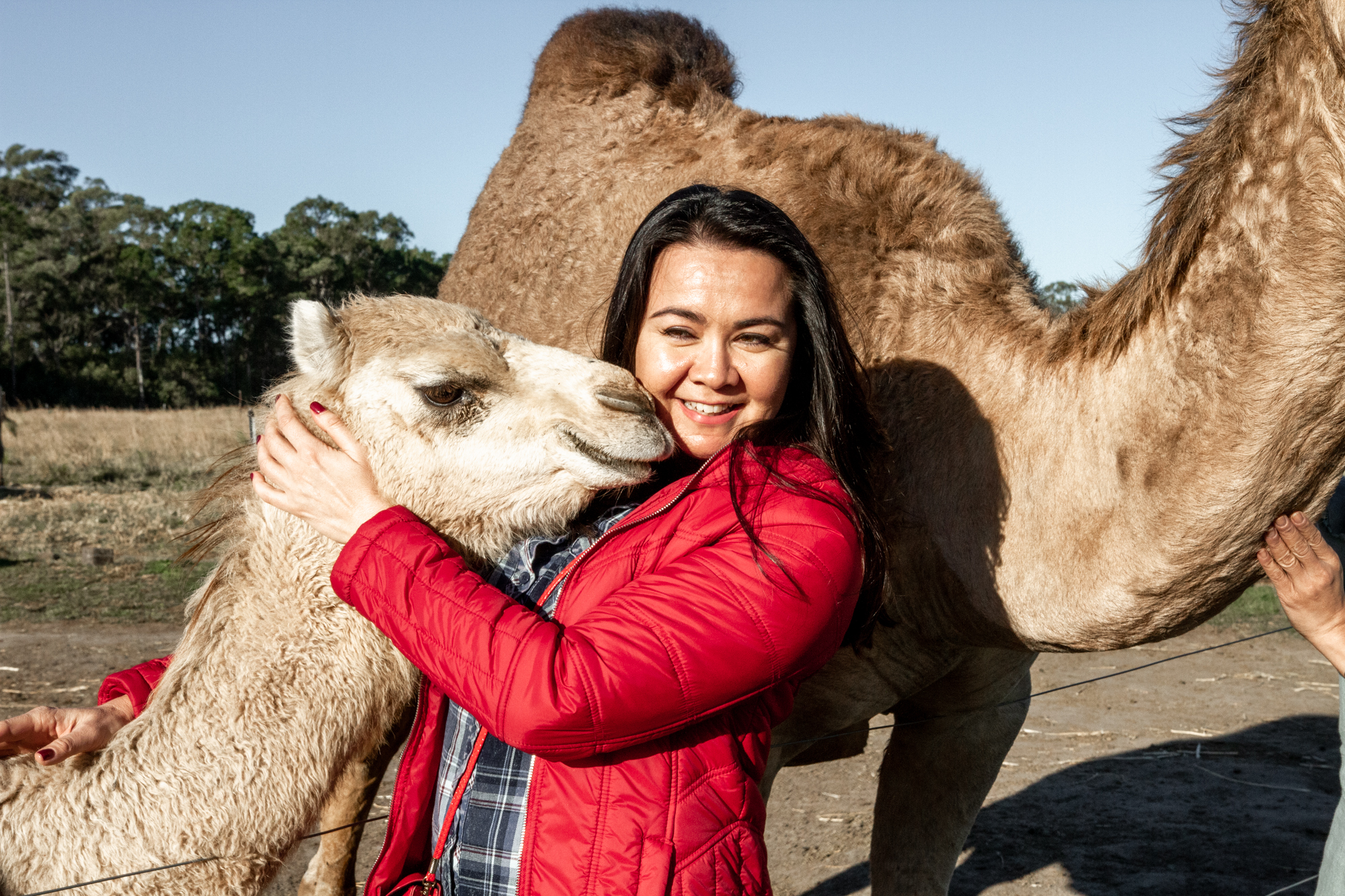 ---
The Industry
QCamel operates within both, the global Camel milk products market, which is valued at USD 18.3 billion by 2027 and the global Processed Camel Milk market, valued at USD 1.3 billion in 2022 and is expected to grow to USD 1.8 billion by 2029.
Biotechnology represents a strong strategic commercial opportunity for QCamel. The global Nutraceuticals market was valued at $413.0 billion in 2020, and projected reach $650.5 billion by 2030.
Key drivers bolstering the growth in demand for camel dairy products include.
Growing consumer awareness of the nutritional profile of camel milk.
The increasing shift among consumers to wellness and health – and an increasing preference for healthier and functional food products and alternative dairy options.
The increasing population of lactose-intolerant individuals and people with auto-immune and chronic health conditions.
Increased disposable income, particularly in emerging and untapped markets such as Asia.
Rising adoption of camel milk among the diabetic consumers owing to its low sugar content.
Increased research and knowledge of the hypoallergenic and positive effects of camel milk on chronic conditions including Diabetes Mellitus Types 1 & 2 and autoimmune disorders, skin and tissue repair, gut health, and autism spectrum disorder, among other chronic conditions.
Increased diversification of product to secure increased profit margin and to cater to consumer demands for a range of products.
Increase online channel distribution resulting in the increased demand in chilled distribution.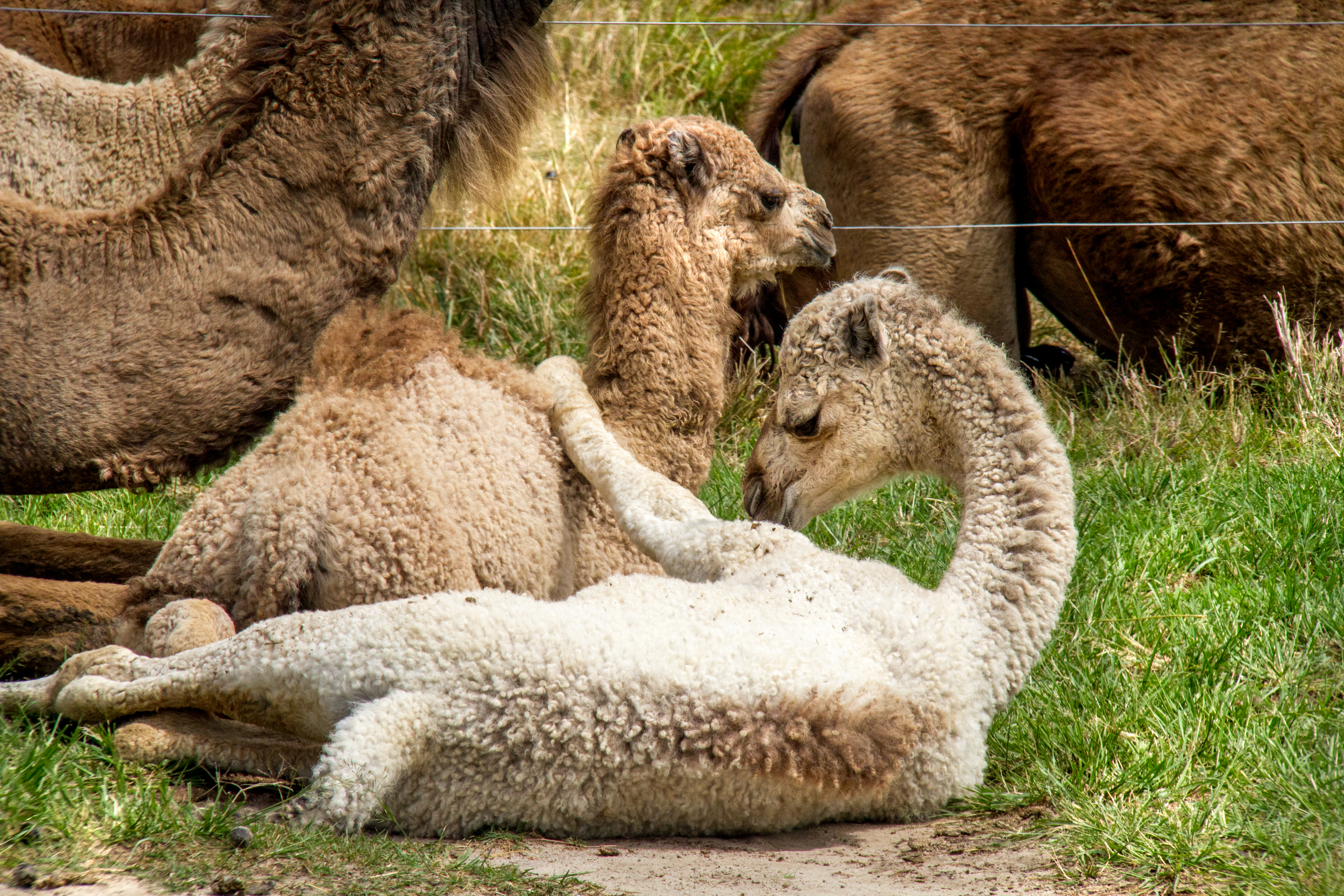 ---
Our Strategic Roadmap
It's time to catapult our international growth and health innovation.
The camel industry within Australia, and globally, is experiencing growth, in most part, due to the changes in consumer preferences and the spotlight on the nutritional properties of camel milk for health and wellbeing. Camel milk is recognised and the subject of health research, for its nutrient-rich, antimicrobial, highly digestible, anti-inflammatory, low in fat and lactose immune supportive and antioxidant properties.
QCamel's strategic focus is now in three key areas: certified organic milk products; skincare; and probiotics. QCamel is raising funds to support the strategic growth of the Company and to achieve key activities planned for the next 24 months.
Certified Organic Milk Products - QCamel plans to grow its market share of the 'organic' camel milk market within Australia and through export channels in Asia through growth of channel distribution to supermarkets and specialty health stores.
Skincare – launching our skincare globally; and securing approval by the Therapeutic Goods Administration (TGA) for approval for use for specific skin conditions such as acne, mild skin irritations and radiation dermatitis (burns). Good results will provide an avenue into the Pharmacy market.
Probiotics - QCamel, in partnership with a leading Australian ingredients provider and laboratory team, who develop nutritional molecules for the health industry – has commenced the development of a range of bi-products for the Australian and international health market, including the extraction and compounding of probiotics. The commercial opportunity may have application not only in health products for humans, but also the natural products market for animal health.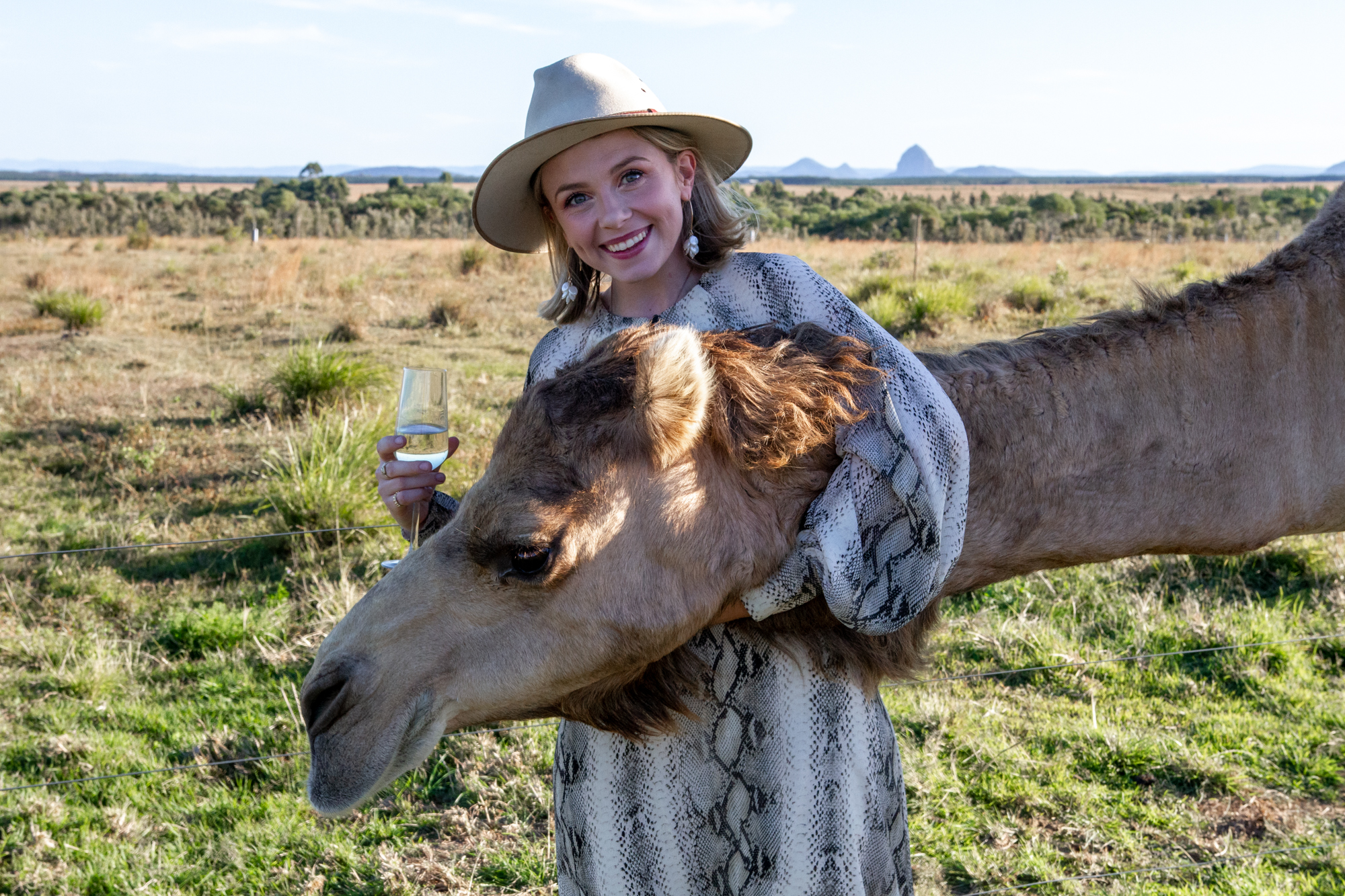 ---
Use of Funds
We're raising funds to propel our growth within Australian and internationally, and to commence biotech innovation.
Key activities funds will be directed to:
Secure export accreditation for Asia, then USA and Europe.
Commence export of certified organic milk products
Launch of e-commerce website (Shopify) and marketing to build international sales.
Expand operational area, ready for growth on farm & minor improvements Farm Gate operations.
Skincare Rebrand, re-packaging and dedicated marketing.
Extract probiotics from QCamel Milk for manufacture
Regulatory approvals – Therapeutic Goods Australia (TGA) and European Union (EU) (Regulation (EC) No. 1223/2009 on Cosmetics Products)
Uplift of QCamel Technology – software integration across Company
Move to compostable bottles away from recycled packaging.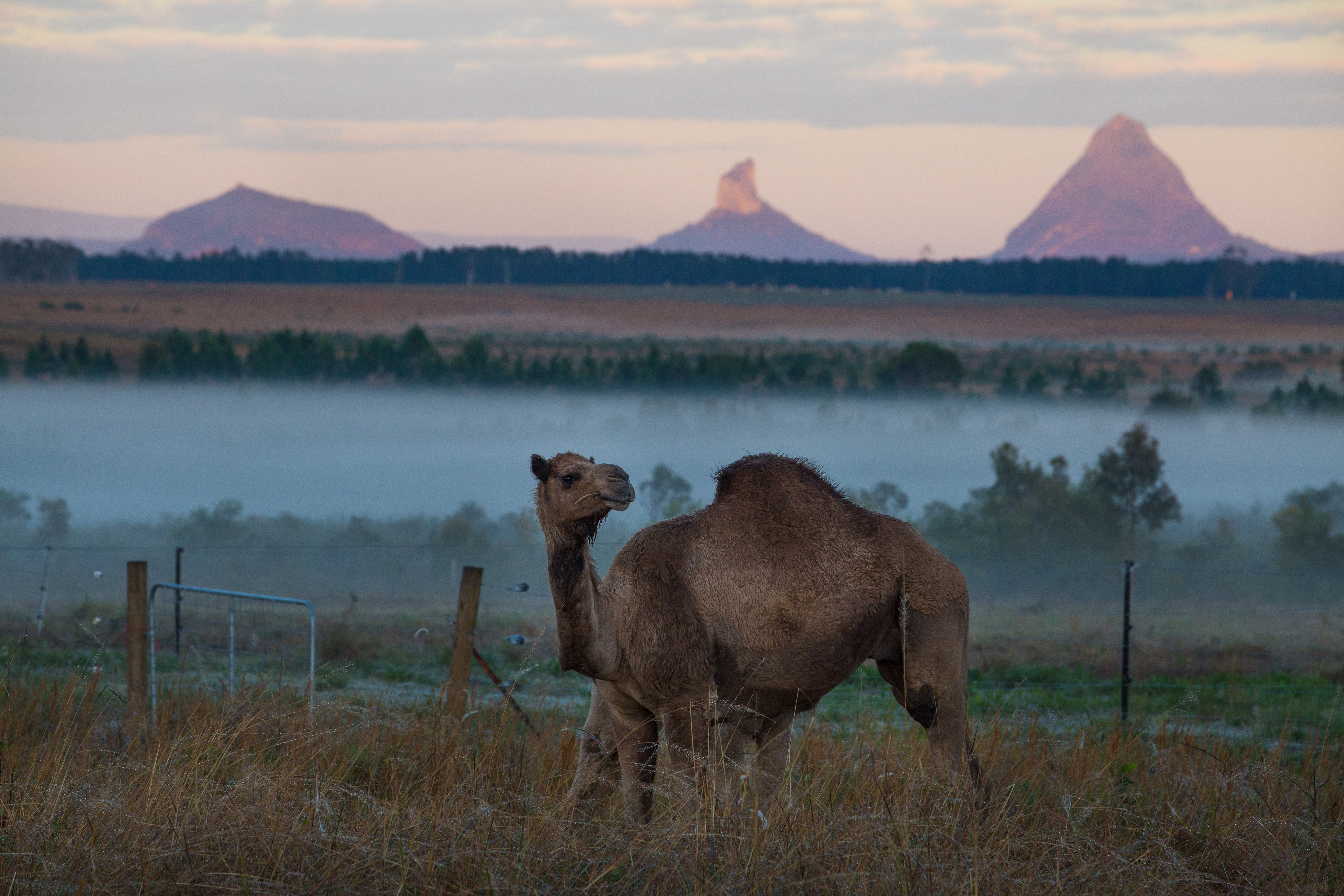 ---
Risks
Funding: The company is raising funds to meet its growth objectives and expansion expenses. There's no guarantee that it will secure all the necessary funding, which could affect its value and the achievement of its objectives. We may need to scale back our plans, or source government funding grants.
Regulatory approvals: There is no guarantee that we will receive all necessary regulatory approvals and we cannot predict with certainty the timelines for such approvals, or whether other requirements may be imposed by regulatory authorities. We've made sure to start this early and appointed a consultant who specialises in this process.
Certification as organic: We need to periodically re-apply for certification as organic and its food safety accreditation. There is no guarantee that certification will be given which may impact the business and our reputation – but we do rigorously protect and monitor our farm and operations to mitigate this risk.
Reliance on key personnel: The Company is reliant on several key personnel, including the Executive Directors who are working within the business; however we have put a succession plan in place and trained senior staff to ensure continuity.
Failure of machinery: The failure of any manufacturing equipment could lead to the delay in supply and loss of revenue, but we do have back up machinery and plans.
Environmental conditions: Unforeseen or prolonged environmental conditions (e.g., drought, flood, fire) on the business may have a material impact on the supply. We've experienced this and have management plans in place for these events.
Failure in supply: The Company may be unable to supply the volume of milk required to due to camels not milking or risk of exposure to disease. We do have access to 400 breeding stock at a biodiverse farm.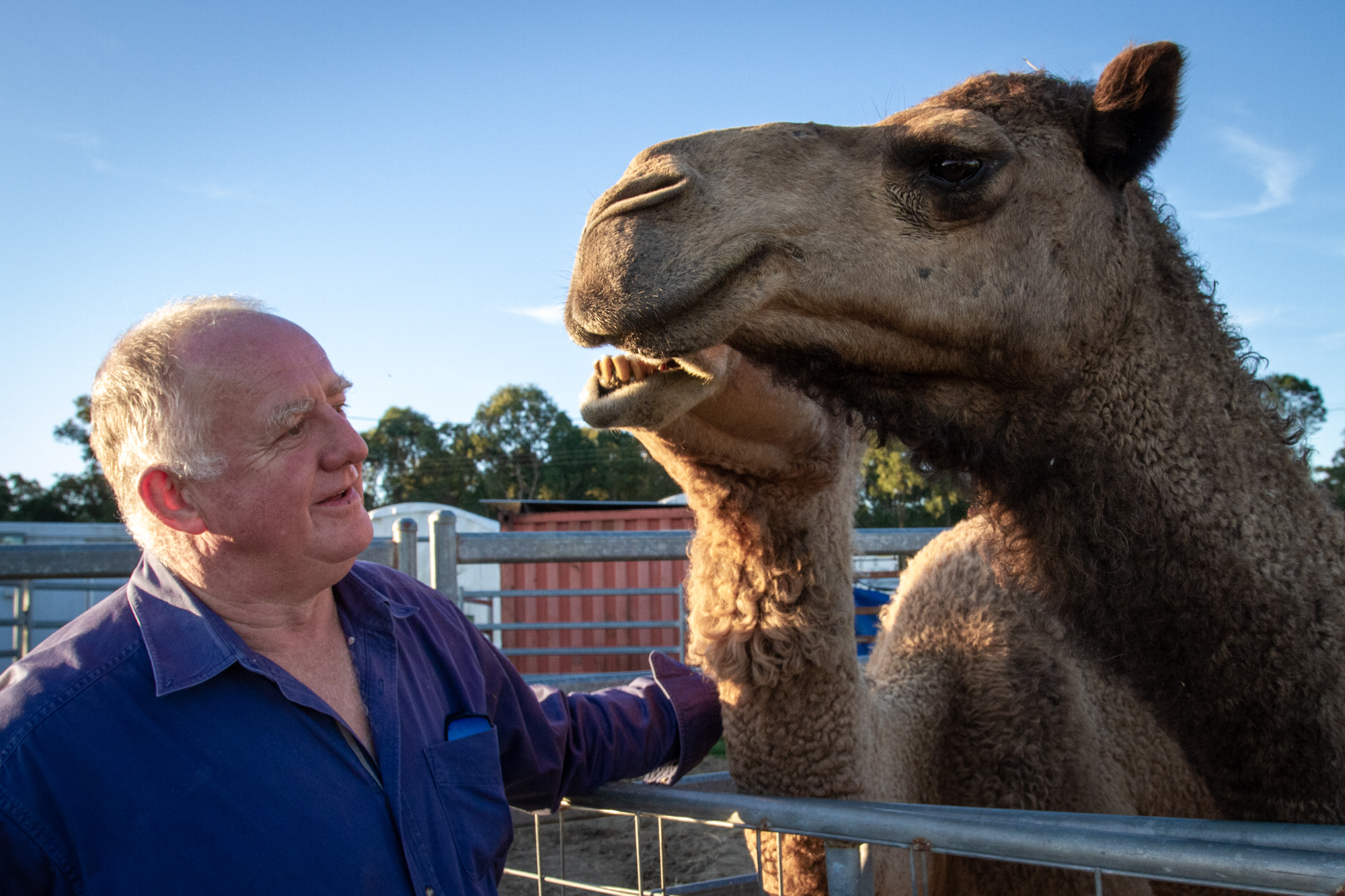 ---
About Swarmer
Swarmer is an Australian equity crowdfunding platform connecting businesses and investors. Designed to support start-ups, growth companies and scale-ups we allow everyday investors to own a share in businesses that are the future. We hold Australian Financial Services License (AFS License #507867).
Find out more about becoming a shareholder via Equity Crowdfunding through Swarmer.