Reasons To Invest
426% revenue growth from January 2023 to November 2023
1,006 local communities built and nurtured across Australia and New Zealand of engaged buyers and sellers
40 CRM integrations, 1 data partner - allowing agents to instantly create ads just by listing their properties.
25% of Australians are already listing on our platform.
Almost 4m property posts distributed to social media powered by AI.
Released Australia's first AI powered portal that allows consumers to search by "whats important to them" instead of traditional suburb search.
Passionate team of directors with over 75 years combined real estate experience and 30 years experience developing technology
6 revenue streams including monthly & annual subscriptions & transactional.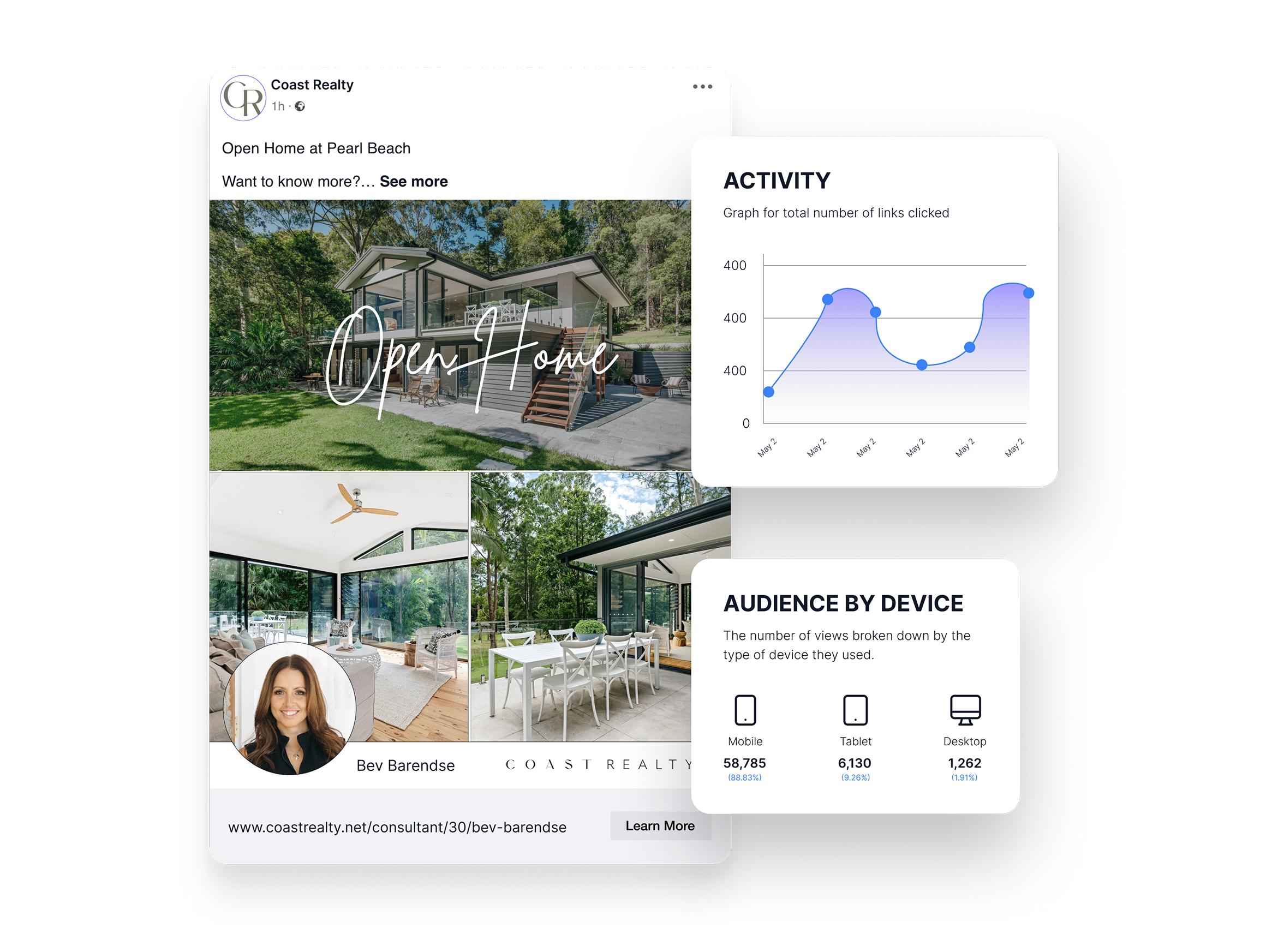 ---
Who is Realty Media Group (RMG)
RMG is both an Proptech & Ad-tech scaleup within the Real Estate Industry that has created products to save time for both agents and consumers in their real estate transaction.
Positioned uniquely within the market as our ecosystem is an end to end marketing solution for agents, while also catering for the needs of consumers.
Our main two products are: realty.com.au, which is our consumer facing product - a property portal that serves listings to consumers and, agentads.io - our agent product, which is an end to end property and agent advertising platform.
Our portal and advertising platform work synergistically to allow agents to manage their entire digital presence in one place.
Our technology allows agents to direct all their marketing (ads, posts, social media videos etc) to their own agent website, with built in retargeting - to serve the most direct and targeted ads to consumers who have engaged with their websites.
Our customised agent websites utilise specific suburb property data, then our technology programmatically creates dynamic ads with this data and pushes it into the agents target area - accentuating them as the authoritative agent in their suburbs.
We provide dynamic reporting on all aspects of the agent's social media presence - posts, ads and their website. This allows them to share the results with vendors, as well as make data driven decisions about what works best for their market.

---
Key Achievements
25% of Australian agents listing their properties on our platform
426% revenue growth from January 2023 to November 2023
We have created Australia's largest geo-targeted property network - thats over 1000 local communities of engaged Australians who are interested in whats happening in their local area.
We have launched Australia's first AI portal - realty.com.au
19,009 new properties were listed on realty.com.au in Oct 2023
Over 4800 Ai-Powered property campaigns run for Australian Agents - with more than 100 run in November 2023
Over 250,000 Australians viewed a property from realty.com.au in October 2023
We built over 30 new websites for Agents in Nov 2023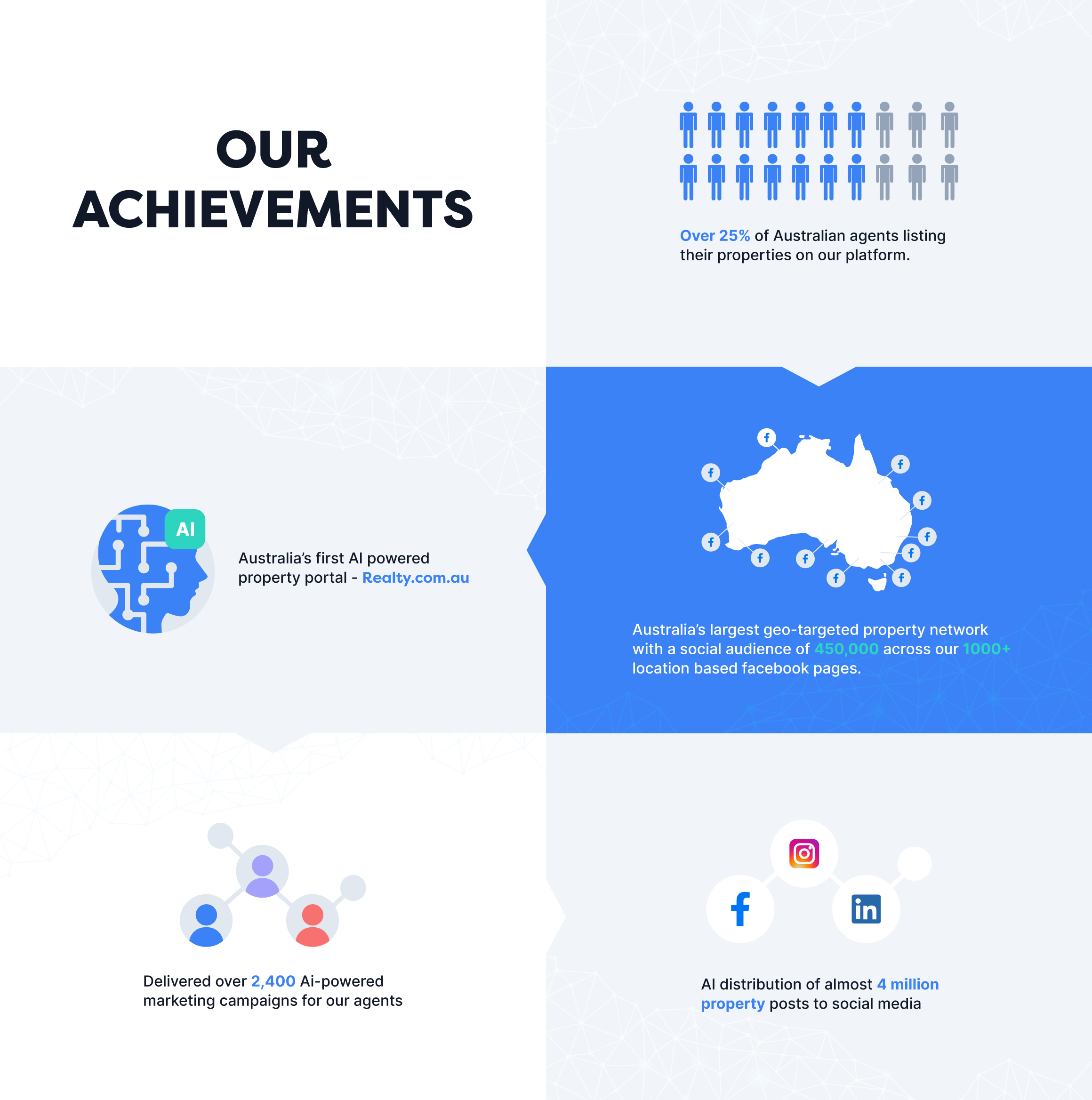 ---
Problem & Solution- Consumers
Problem: Traditional property search methods may be time-consuming and inefficient for consumers as it requires users to create "specific filters" based on features, keywords and location.
Filters - Filters only work effectively when an Agent has categorised each "specific feature"
Keywords - Are dependent on "specific words" Agents have used to describe the property
Suburbs - Searches require a "specific location" to begin to search

Solution: Our AI-powered powered search removes the need to use filters because it scans and categorises property features, words & location and applies "synonyms" to find ideal properties faster based on "what's important to them".


Problem & Solution- Agents
Enhancing Marketing Strategies:
Problem: Real estate agents may struggle with creating and implementing effective marketing strategies for their listings as they may not possess the required expertise. They often spend a significant amount of time on advertising and marketing efforts, which could otherwise be used for more critical tasks like selling or renting properties.

Solution: AgentsAds offers automated tools and features that help agents distribute customised advertising campaigns to increase their reach across web, social and search, optimising their marketing efforts and allowing agents to focus on more dollar-productive activity.
---
What will investing get me?
We understand that the real estate journey is one that touches the lives of all Australians - so we wanted you to benefit from your investment in Realty Media Group. By investing, you will own shares in RMG - meaning you will benefit from any liquidity event that may take place and, you will receive monthly updates on the successes we achieve.
Whether you are an agent or a consumer, we want you to benefit from your investment.In addition to becoming a shareholder of RMG, we have various perks to allow you to benefit directly from our product.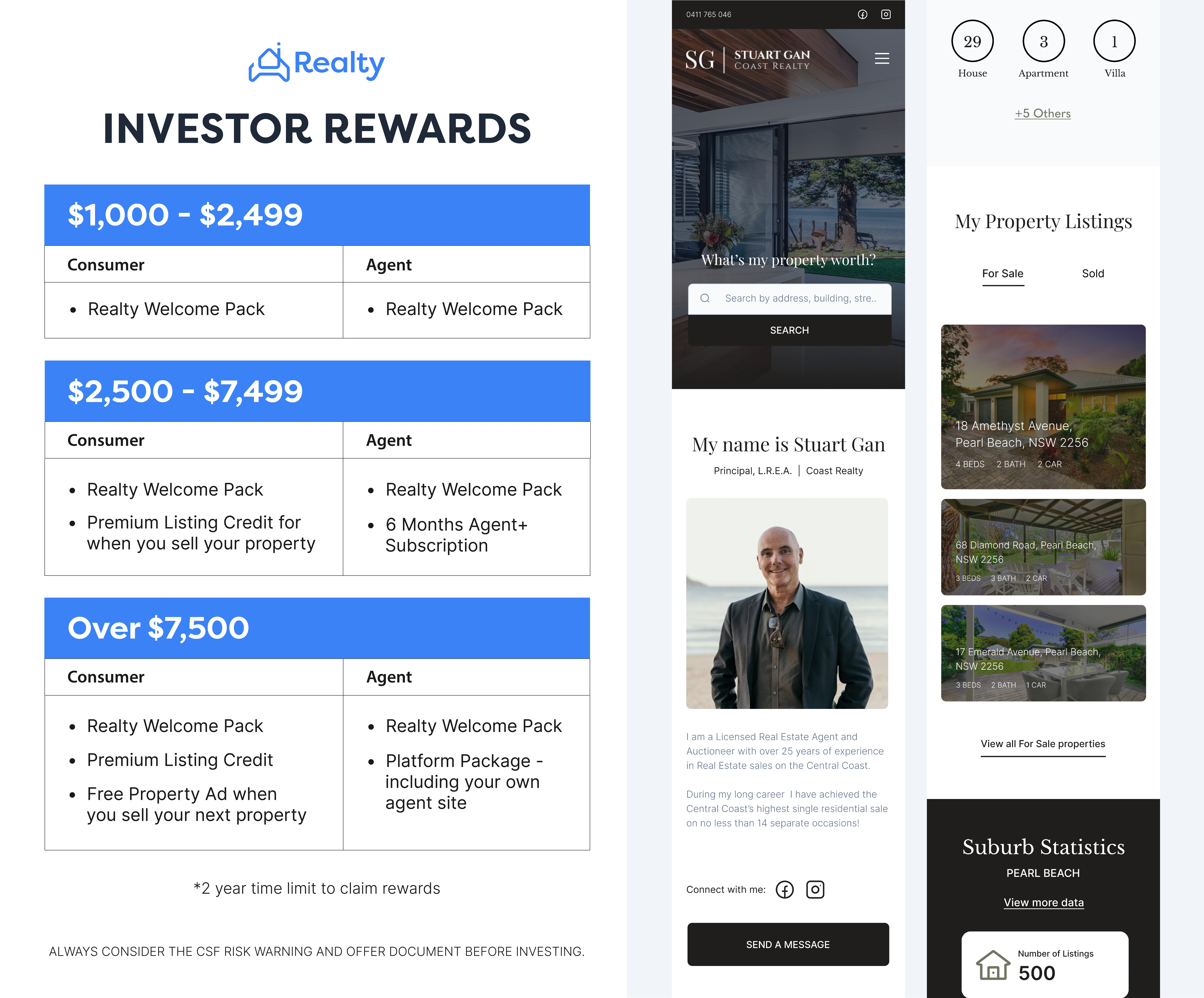 ---
Business Model
Our suite of Software as a Service (SaaS) products service a two-ended market, for both B2B (Agents) and B2C (consumers). Our products encompass the following revenue streams:
Freemium: Free to list on realty.com.au, allowing us to build our data and content.
Transactional: Ad-spend on a transactional basis as properties are listed and sold.
Subscription: Monthly subscriptions on profiling, data and advertising services.
---
The Industry
Most of us have a passionate interest in property, whether renting, investing, renovating or just buying your family dream home, we are all impacted by what happens in the property market.
The real estate marketing industry in Australia is a $1.6b segment of the Real Estate industry that has been resistant to the rapid technological growth that other sectors have embraced.
At RMG, we have leaned into that technological advancement and built future-proof products that leverage the power of data and AI.
In 2022 there were over 730,000 property sales in Australia, with the aggregated value of property changing hands being more than $674.5bn (MPA Australia - Value of Australian Property Sold Remains High Report). The marketing cost of those 730,000 homes was approximately $2200 per property (Property marketing size as per ABS world).
There are 64,490 active real estate agencies across Australia that together employ 133,360 agents (REIA - 2022-2023 Pre-budget submissions). We currently have 25% of Australian agents using our portal - realty.com.au
---
Competitive Advantage
RMG has pioneered Ai driven property 'Discovery Search' allowing consumers to enter lifestyle descriptions and see properties better suited to their needs. Also Realty's Ai powered distribution delivers EVERY available property for sale and rent to social media instantly, once listed on Realty.com.au.
Our ad product does have competitors in the market, servicing separate segments of the market - there are a number of companies running ads on behalf of agents. However, we are in a unique position as all our products work synergistically, as an overall platform. Saving agents time and money and ensuring their prospects are delivered to one singular place, instead of fragmented across multiple channels.
Agents can turn on automation and have the solution working in the background, this is a completely hands off and automated lead generation solution for agents. Our solution consolidates distribution and marketing into a single login.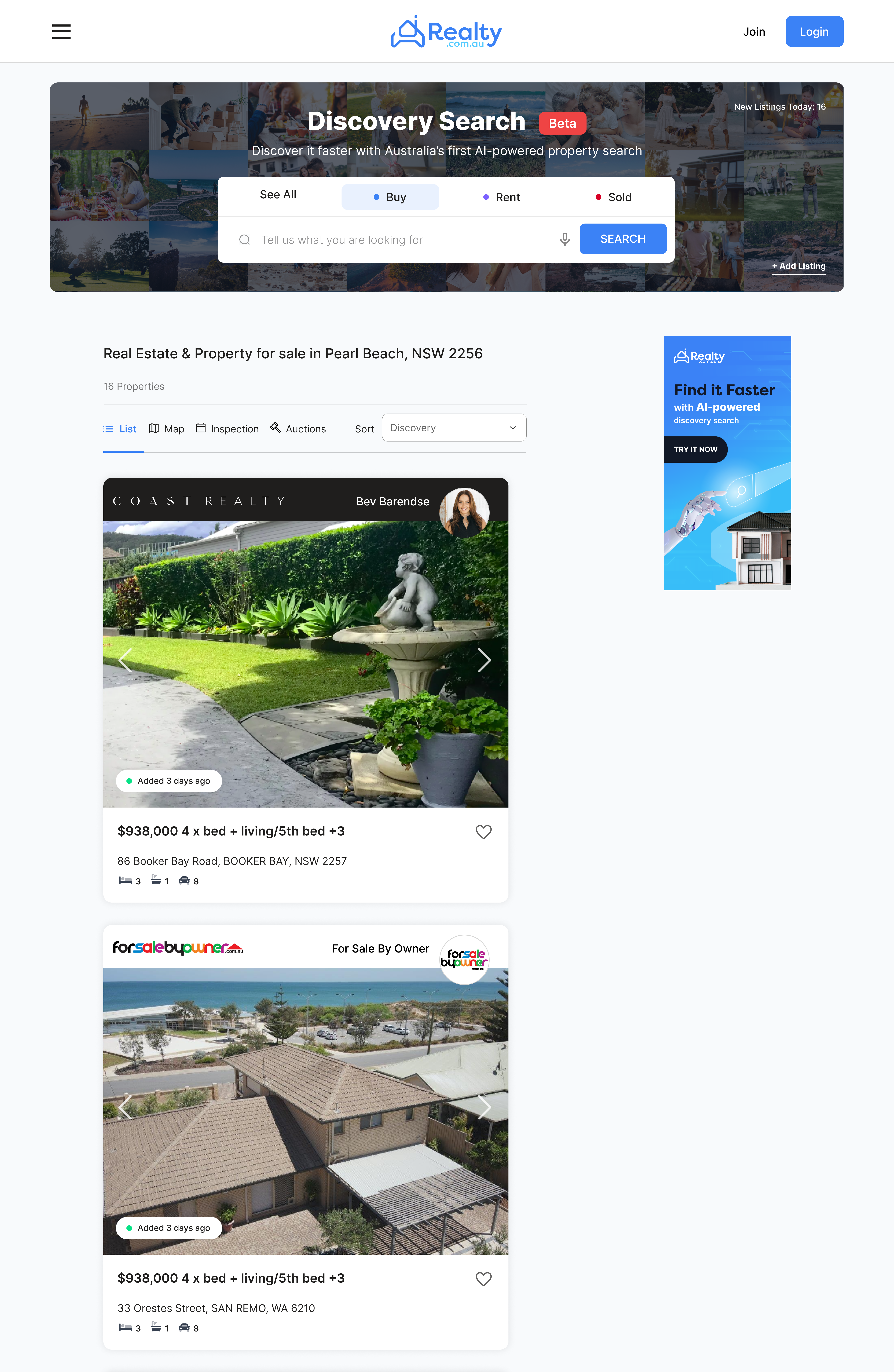 ---
Risks
The key risks include:
Funding
We are raising funds to meet our growth objectives, overheads and marketing expenses. There is no guarantee that we will secure all funding necessary to meet this objective - which could affect our value.
Adoption
The growth of new business customer accounts is, in part, reliant on the effectiveness of the direct marketing efforts of Realty. There is a risk that Realty's direct advertising and direct marketing channels may become less effective or more expensive as a result of increased competition or costs associated with bidding for search engine keywords, online and social media advertising and changes to the algorithms or terms of services for search engines, such as Google and Meta, which may cause Realty to be ranked lower or excluded from search results. There is a risk that customers may be reluctant to switch to Realty's offering as they may be entrenched with another service. Due to this, Realty may be unable to grow at the expected rate or profitably, which would have a material adverse effect on Realty's business, financial condition, operating and financial performance, and/or growth.
For a full overview of risks, please review CSF Document.
---
Use of Funds
Your support will go a long way to helping us realise our vision & we will use funds raised to:
Grow our social media audience
Increase our AI capabilities so we continue to deliver innovative products
Explore international opportunities
Bolster our sales team to increase increase agent adaption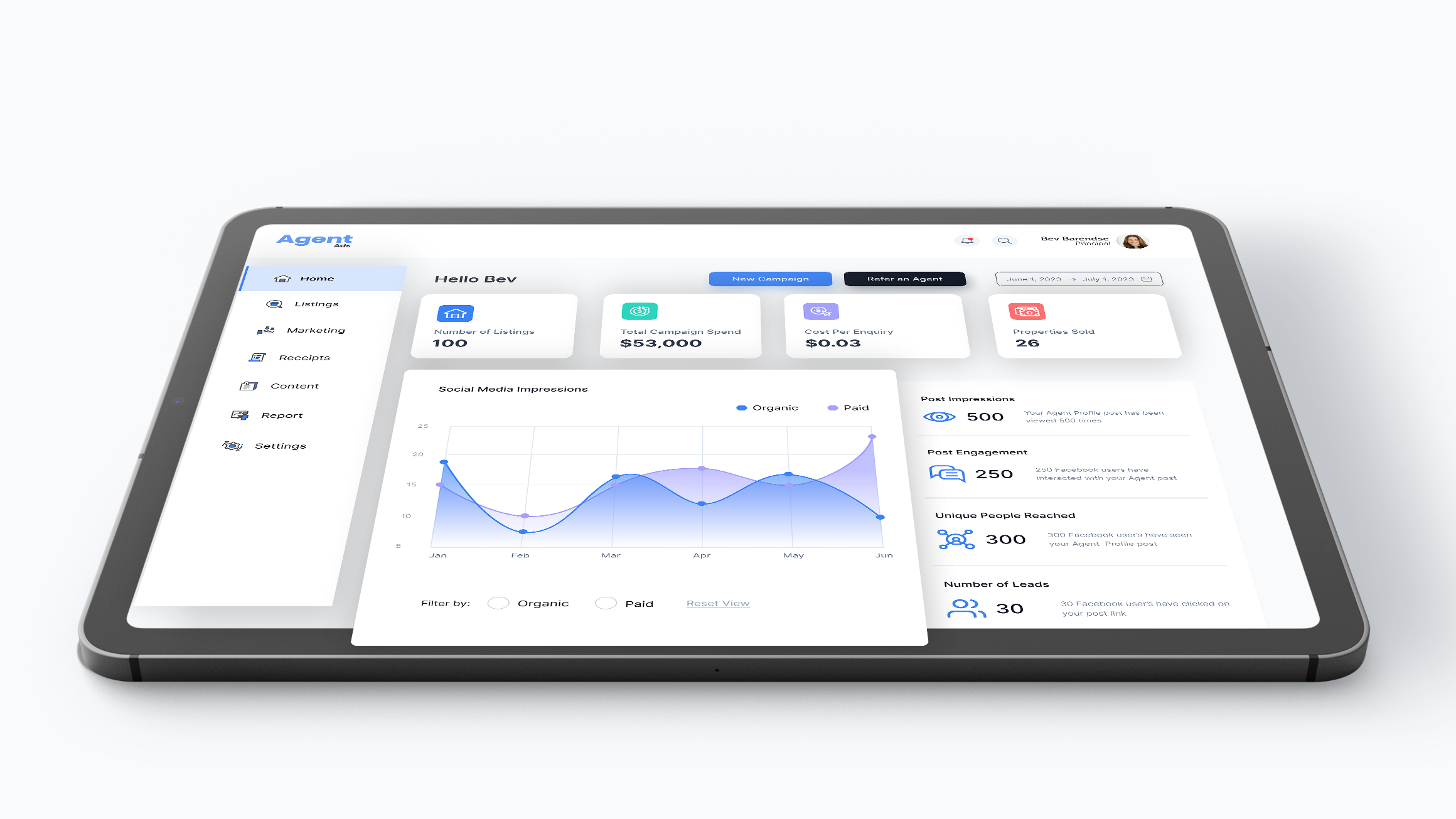 ---
About Swarmer
Swarmer is an Australian equity crowdfunding platform connecting businesses and investors. Designed to support start-ups, growth companies and scale-ups we allow everyday investors to own a share in businesses that are the future. We hold Australian Financial Services License (AFS License #507867).
Find out more about becoming a shareholder via Equity Crowd Funding.